The Pacers extended their lead for the No. 1 seed in the Eastern Conference on Wednesday with a 84-83 win over the Heat. Coming from behind to get the victory, David West sealed things for Indiana with an incredible last-minute three off the in-bounds:
West only scored 13 in the win, but his unexpected three was straight up clutch. Entering the game, the big man had hit just a trio of shots from beyond the arc all season, with his last coming Feb. 2 against Atlanta.
For Miami, it's a bitter loss, but LeBron James' 38 points were a sight to behold. Indiana focused its defense on LeBron all night as the rest of the Heat offense struggled, but the reigning MVP simply kept attacking and, as a result, pretty much single-handedly kept his team in the game.
Paul George led the Pacers with 23 points, while Roy Hibbert added 21.
With a Washington loss on Wednesday, the Bobcats picked up a huge game in the standings by topping Brooklyn. The Wizards are now just 1.5 games ahead of Charlotte for the ever-important No. 6 seed in the East, which assures avoiding both Miami and Indiana in the first round of the playoffs.
Al Jefferson took advantage of the undersized Nets all night, scoring 35 points and 15 rebounds to continue his resurgent season. The Bobcats ended up with a 49-32 rebounding advantage behind Big Al's domination. He also got a lot of help from Kemba Walker, who came up with 20 points and 12 assists in 45 minutes.
Brooklyn got 29 points and seven assists from Deron Williams.
You can thank Toronto's starting lineup for this win: the team's five starters combined to top the Celtics' entire output on Wednesday night. Of course, the Raptors didn't get much help from their bench, so nearly every one of those 92 points was needed, but this was quite the effort from their starting five.
Terrence Ross led the team with 24 points, but Kyle Lowry wasn't far off with 23 points and nine rebounds. DeMar DeRozan (20 points), Jonas Valanciunas (15 points, 14 rebounds) and Amir Johnson (10 points) all poured it in, as well.
For the Celtics, strong games from Rajon Rondo and Jared Sullinger weren't enough. Rondo is now averaging 14 assists over his past four contests after dishing 15 against Toronto, while Sullinger tied a career-high with four three-pointers en route to 26 points.
Three straight wins for Cleveland, this one thanks to a buzzer-beater from Dion Waiters. The second-year guard wasn't having a great game, needing 19 shots to get his first 16 points, but the final attempt he hoisted up Wednesday made up for the rest: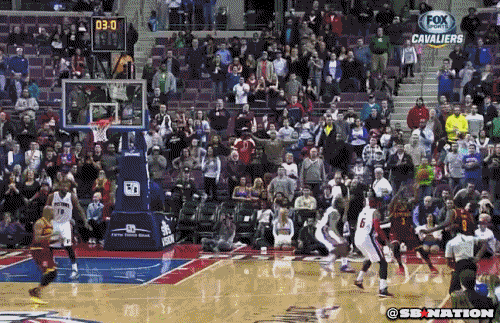 With Kyrie Irving sidelined, Waiters has turned up his scoring production of late, averaging 24 points over his past five contests. It hasn't all been good -- he's shooting 6-of-24 (25 percent) on threes in that span -- but there's little doubting the guy's ability to score.
Matthew Dellavedova also went off for Cleveland in this one, recording 21 points and six assists off the bench.
Josh Smith led the Pistons with 24 points, eight rebounds and six assists, while Brandon Jennings added 17 points and 13 assists. Andre Drummond had 11 rebounds, but may or may not have cost his team the game with this free throw:
With four straight losses, Atlanta could seriously be on its way out of the playoff picture soon. That's hard to believe for a team that seemed destined to earn a mid-level seed not too long ago, but the bottom has fallen out after a number of key injuries.
Minnesota didn't even play that well on Wednesday, turning the ball over 19 times, but the Hawks beat themselves. Atlanta shot 38 percent from the field and committed more turnovers (25) than assists (21).
Kevin Martin and Corey Brewer each scored 18 points to lead the Timberwolves, while Ricky Rubio added 10 assists and six steals. Kevin Love was pretty quiet, though he still managed 14 points and 12 rebounds in 29 minutes of action.
Chris Paul shot 0-for-12, so the Clippers loss isn't too surprising.
Actually, that's so absurd, lemme repeat that again: CHRIS PAUL SHOT 0-FOR-12. IN AN NBA GAME.
If there's one thing we expect from CP3 at this point, it's brutal, man-eating efficiency -- when he's on the court, we expect the Clippers to be a high-octane, ruthless hooping machine. But on Wednesday, with a mostly healthy roster, we got a rare glimpse into what the world looks like when Paul isn't really on his game.
Then again, with 12 assists, three steals and only two turnovers, Paul still kept his team in the game despite the cold shot. Led by 31 points from Jamal Crawford and 21 from Blake Griffin, Los Angeles nearly stole a road win despite getting only two points from its star point guard.
Much of the success against Paul can be attributed to Anthony Davis. The former No. 1 pick was dominant on defense, recording 13 rebounds, six blocks and two steals, making up for a 5-of-19 shooting effort on the other end. Anthony Morrow was the guy on offense for the Pelicans all night, scoring 27 points on 9-of-17 shooting.
Another day, another win for San Antonio. That's 15 straight for the Spurs, who seem to be planning on losing their next game sometime next fall.
Tim Duncan threw back the clock with his performance against the Nuggets on Wednesday, blowing up for 29 points, 13 rebounds, five assists, two blocks and two steals. It's the kind of game we rarely get from Duncan nowadays (he's only topped 30 once this season), but the fact that it happens at all is rather incredible.
Aaron Brooks led the Nuggets with 25 points and eight assists.
Suns 99, Wizards 93
Washington trailed by as many as 25 in the second half before rallying to make things close multiple times in the fourth quarter, but at each instance, Phoenix punched back to extend its lead. The Wizards never got closer than three points in the second half -- with 1:07 remaining, Eric Bledsoe hit a monster three that pretty much ended things.
The Suns' guards, Bledsoe and Goran Dragic, were fantastic all night. The two combined for 48 points, 13 rebounds and 13 assists, though they also turned the ball over 11 times.
John Wall struggled early on, but carried the Wizards as they whittled the deficit down from 25 to three. He finished the game with 29 points and six assists. Washington has a nasty habit of falling behind before rallying, and again it's cost the team a winnable game.
The Knicks built a 24-point first lead and held on for a win in Sacramento, thanks to 36 points from Carmelo Anthony and 29 more from J.R. Smith. The Kings mounted a comeback in the second half, but at times couldn't get out of their own way.
Human bulldozer DeMarcus Cousins led the Kings with 32 points, 15 rebounds and eight assists in the loss.
Zach Randolph had 22 points and 13 boards for the Grizzlies, who outscored the Jazz 29-16 in the fourth quarter for a road in in Salt Lake City. Memphis won their third straight contest to pull within a game of Golden State for the sixth seed in the Western Conference.
Utah got double-doubles from both Derrick Favors (22 points, 10 rebounds) and Enes Kanter (11 points, 15 rebounds) in defeat.