It took until the final possession of the fourth quarter, but the Indiana Pacers took Game 4 in Atlanta, 91-88. Paul George was spectacular down the stretch, but missed two free throws that allowed the Hawks an opportunity to tie the game on the final possession. The Pacers played Atlanta tough, forcing a Pero Antic miss on the final play of the game.
Atlanta struggled against the Pacers in the first half until Paul Millsap caught fire with under five minutes left in the second quarter. The Hawks big man went on a flurry to end the half, and despite the team's difficulty shooting the three-pointer, Atlanta took a lead over the Pacers going into the break, 48-42.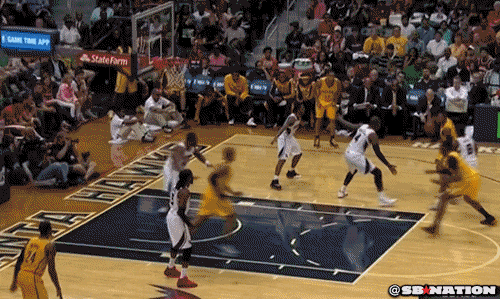 The Hawks' three-point attack took over in the fourth quarter, with Jeff Teague leading the way. Teague continued to be aggressive attacking the basket, which opened up space for him on the arc as he put down 2-of-5 from beyond the three-point line.
With less than two minutes remaining, George and David West each hit a three-point shot to re-take the lead. The Hawks were given a second chance as Paul George missed two free throws with seven seconds remaining, but Atlanta couldn't capitalize on the final play and the Pacers ground out a win, 91-88.
For Atlanta, Paul Millsap led the way with 29 points, seven rebounds, three blocks, two assists and a steal. Kyle Korver had 15 points with nine rebounds and a steal. Jeff Teague added 14 points, seven assists and six rebounds.
Indiana's Paul George scored 24 points on 10-of-18 shooting, grabbing 10 rebounds with five assists and two blocks. David West scored 18 points on 7-of-13 shooting, with five rebounds, three steals, two assists and two blocks. Lance Stephenson added just five points but grabbed nine rebounds.
Game 5 is at 8 p.m. ET on Monday, April 28 in Indianapolis. The series is tied, 2-2.