The Spurs' win streak reached 19 games Wednesday night with a 111-90 win over the Warriors at AT&T Center. Led by 18 points and eight assists from Tony Parker, the win also completes a season sweep for San Antonio.
With the Spurs jumping out to a 31-18 lead after the first quarter, Gregg Popovich had the benefit of sitting his starters more than usual in the win. Tim Duncan played just 20 minutes -- recording 15 points and eight rebounds -- while Parker went just 28 and Boris Diaw was the only player to top 30.
That didn't stop the Spurs from playing their deadly efficient style, though. San Antonio shot 53 percent as a team despite going 4-of-19 from beyond the arc, helped by a 45-33 advantage on the boards.
San Antonio is now 59-16 this season, four games ahead of Oklahoma City for the No. 1 seed in the Western Conference. It's hard to imagine anyone else getting that spot at this point.
Washington is officially back in the playoffs after clinching its spot with a win over Boston on Wednesday. It's the first playoff appearance for the Wizards since 2008, two years before the team would draft John Wall and begin building its current core group of players.
Wall didn't have a huge game, going for 13 points and 10 assists, but Marcin Gortat stepped up with 22 points, eight rebounds, four assists and three steals in 28 minutes. Maybe some of his success stemmed from this little bit of sneakiness as the Celtics huddled up:
Boston got 25 points from Jared Sullinger, but shot just 40 percent as a team. Rajon Rondo had 13 points, seven rebounds and six assists, but committed seven of the team's 14 turnovers.
Cleveland finishes off the season sweep with a blowout win over Orlando. The Cavs led 70-47 at halftime, extended that lead in the third quarter, then coasted their way to an easy win on the road. They're now just two games behind the Knicks for the No. 8 seed in the Eastern Conference, though Atlanta divides the two teams in the standings.
Dion Waiters had a big game for the Cavaliers, hitting 10-of-15 shot attempts en route to 26 points in 34 minutes. He's averaging 23.1 points over his past eight contests, though Wednesday's return for Kyrie Irving will likely cut into his shot totals going forward.
Irving also looked strong in his first game back from injury, scoring 17 points on 7-of-8 shooting in addition to dishing eight assists and grabbing six rebounds. As a team, Cleveland shot 58 percent from the floor.
Orlando played its reserves for a significant portion of the game given the lopsided score. Victor Oladipo came off the bench to lead with 16 points and four assists, while Doron Lamb added 14 points on just five shots.
That's three straight losses for Houston, including back-to-back games against Eastern Conference opponents. The Trail Blazers have been gaining ground on the Rockets in recent days, and the No. 4 seed in the West is officially up for grabs at this point.
The Raptors led by as many as 20 in the third quarter, but by the middle of the fourth, the lead was cut to 92-90. Toronto responded from there to extend its lead back to eight and eventually put things away with some dominant defense in the waning moments.
Other than Jeremy Lin's relatively meaningless three-pointer with eight seconds left, the Rockets didn't hit a single field goal in the final five minutes. Houston shot just 41 percent from the field as a team.
DeMar DeRozan led the Raptors with 29 points, six rebounds and four assists. Greivis Vasquez and Jonas Valanciunas added 15 each. James Harden led Houston with 26 points, and with Dwight Howard out, Omer Asik added nine points and 15 rebounds in his place.
Knicks 110, Nets 81
A straight-up beatdown at Madison Square Garden, where New York led 63-38 at halftime before coasting to an easy victory in the second half. The Nets aren't exactly a team built to rally from huge deficits, and didn't really stand a chance once things got out of hand Wednesday.
J.R. Smith and Carmelo Anthony led the way with 24 and 23 points, respectively, while Tim Hardaway Jr. added 17 off the bench. Iman Shumpert had 10 points and five steals, but also got a smack in the face from Paul Pierce for his effort. No, Shumpert can't handle The Truth: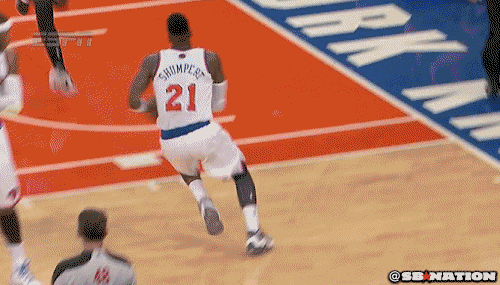 Pierce had a rough game for Brooklyn, finishing with eight points on 2-of-7 shooting. The Nets shot just 40 percent as team, with Joe Johnson's 16 points leading the way.
Indiana gets a much-needed win, but coming against Detroit, it isn't worth much. The Pistons might be the worst team in the NBA after getting pounded by Philadelphia last week, and did little to dispel that notion with another ugly effort Wednesday night.
Despite turning the ball over just five times, the Pistons' offense still managed to look lost most of the night. The team shot just 37 percent from the field and recorded just 16 assists, with the vast majority of those coming from point guard Brandon Jennings.
The Pacers didn't have a great effort, but played well enough to beat a team that's seemingly lacking in direction and motivation. Paul George had 27 points, 13 rebounds and seven assists, with this long-range bucket being arguably the highlight of the night:
(via @BenGolliver)
You probably couldn't replicate that in NBA 2K even if you tried.
A very easy season sweep for Miami, which hasn't lost to Milwaukee since before Brandon Jennings' infamous "Bucks in Six" comments prior to last season's playoff series. These days, some folks in Wisconsin might be missing those days of overhyped mediocrity at this point, though.
The Bucks scored exactly 19 points each in the first three quarters Wednesday night -- by the beginning of the fourth, Miami was already up 77-57. Milwaukee finally reached 20 points in the final period, but the Heat were officially on garbage time by then.
LeBron James led the Heat with 17 points and eight assists in 29 minutes, but he was basically just punking folks in this one: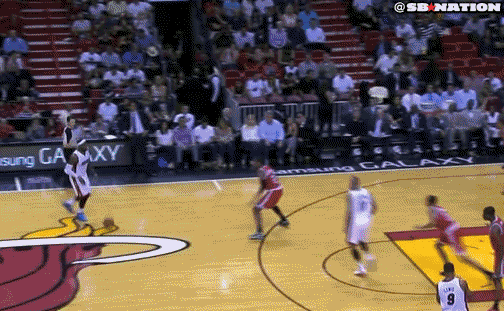 Seriously, he was kinda being mean (if you like Milwaukee or hate dunks, that is):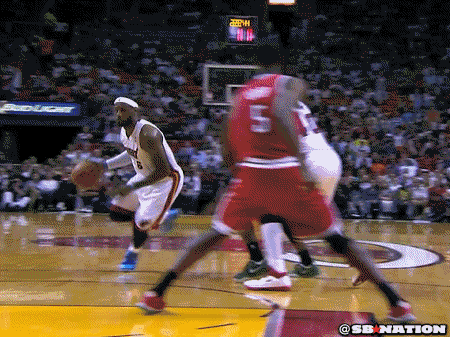 With each loss, Atlanta's chances at the No. 8 seed keep going down. The Hawks have dropped seven of their past eight, with their only victory coming against the lowly 76ers. At this point, unless New York and/or Cleveland stumble badly, Paul Millsap and company need to start winning some games.
The Bulls were unusually efficient from the field Wednesday, shooting 12-of-25 from beyond the arc and 51 percent overall. D.J. Augustin led the team with 23 points, while Kirk Hinrich and Jimmy Butler added 17 apiece.
Millsap had 22 points and 11 rebounds for the Hawks, but Jeff Teague and Kyle Korver were the only other players to reach double digits. Lou Williams came off the bench to record six points and five turnovers in 21 minutes.
When the Sixers lose by 30 to Charlotte, what else is there really to say? Al Jefferson was great in this one, going for 25 points and 10 rebounds. The Bobcats are now just a game below .500, though they remain two games behind Washington for the sixth seed after the Wizards' win.
Michael Carter-Williams had 22 points, seven rebounds and three assists in 27 minutes for Philly, which drops to 16-59 this season.
Charlotte's bench hit 11-of-20 three-pointers in the win, including a 4-of-7 effort from Anthony Tolliver, who finished with 16 points, eight rebounds and five assists in 21 minutes. Gary Neal also had 15 points in just 19 minutes.
A Kevin Love triple-double? Sure, why not!
The Timberwolves big man went off Wednesday for 26 points, 16 points and 10 assists in the 14-point win. All three figures were game highs, and Love also did some solid work on the defensive end, too. Grizzlies forward Zach Randolph shot 1-of-8 en route to four points in 27 minutes.
Kevin Martin added 21 points on 10-of-18 shooting in the win, while Ricky Rubio recorded 14 points and seven assists. Marc Gasol led the Grizzlies with 18 points and seven rebounds.
It was the Kenneth Faried show on Wednesday night. The Nuggets forward blew up for a career-high 34 points and 13 rebounds in just 27 minutes of action. Quietly, he's been blowing up over the past few weeks, averaging 19.2 points and 9.8 rebounds in 17 games since the beginning of March.
Denver started off with 40 points in the first quarter, topped 70 by halftime and never scored fewer than 31 in a single quarter. The Pelicans simply didn't have any answers on the defensive end, allowing Denver to shoot 57 percent from the field with 15 threes and just 11 turnovers.
Once Anthony Davis left in the first half with back spasms, the game was clearly out of reach for New Orleans. Tyreke Evans led the team with 27 points and eight rebounds.
Rudy Gay scored 31 points and Ray McCallum poured in 27 to lead Sacramento to a home win over the Lakers. The Kings committed only eight turnovers and shot 49 percent from the field, but had to withstand a late comeback attempt by the Lakers, who outscored Sacramento 26-20 in the fourth quarter.
It was the 50th loss of the season for the Lakers.
The Clippers erased a 13-point deficit in the fourth quarter to capture a road win in Phoenix for their fourth straight win. Four Clippers starters scored at least 19 points led by 23 apiece by Blake Griffin and Darren Collison.
Eight Suns scored in double figures, led by 16 points off the bench by Marcus Morris, but with their second consecutive loss Phoenix (44-31) is tied with Memphis and Dallas for the seventh through ninth spots in the Western Conference, with five of the Suns' final seven games coming on the road.