In the waning moments of an NBA season, 50-game win totals suddenly become meaningless, and a single loss or thunderous victory could mean a huge difference in playoff seeding. Friday night has a few delectable, mouth-watering games, with several that could decide where teams end up. Let's see who gets the last piece of the NBA playoff pie.
7 p.m. ET (League Pass)
The Pacers have fallen off so hard lately, they couldn't even keep their top-ranked spot in the Eastern Conference. They just recently stopped a three-game skid against Detroit on Wednesday, but their position relative to arch rivals Miami tells a different story. Seeding matters less out East, where the bottom-tier teams aren't likely to surprise over a seven-game series. But losing their top spot and sitting even with the Heat has to hurt the Pacers' pride, something they've barked quite a bit about this season.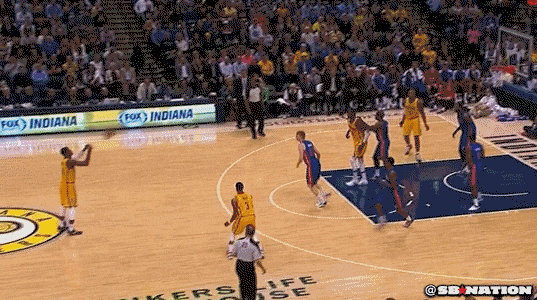 Toronto is happy to have the opportunity to weaken its conference foes. Even if the Raptors win this game, they aren't likely to see the Pacers again until the second round at the earliest. But sticking it to Indiana would be a feather in the cap for Toronto, which has surprised everyone with a record of 43-32, good for third in the East. The Raptors play well at home and it won't be easy for Indiana to come across the border with a win.
10 p.m. ET (League Pass)
The Suns have been raucous lately, going 8-3 since Mar. 14 and putting up impressive numbers, win or lose. They absolutely need this game against the Trail Blazers as they try to claw their way out of the mess that is the bottom of the Western Conference playoff picture. Phoenix has played Portland incredibly tough this season, and in three prior matchups this season, the Suns have looked to be in control against the Blazers' high-powered offense.
Portland, meanwhile, wants to try and grab home court advantage from the Rockets as it continues to work LaMarcus Aldridge back into the lineup. Portland hasn't lost a game since he returned on Mar. 27, and the Blazers look to be improved in both offensive spacing and in rim protection with him back. Portland lost much of its confidence through the month of March, where the team cooled off and saw more losses than wins.
Dessert: Oklahoma City vs. Houston Rockets
9:30 p.m. ET (ESPN)
Oklahoma City is coming off a huge win on Thursday night, snapping the San Antonio Spurs' 19-game winning streak at home. Russell Westbrook was on point against the Spurs, and with the Thunder heating up, you have to wonder how tough they might be to squeeze out come playoff time.
Houston has been on a bit of a backslide, losing three straight games going into Friday night's matchup. They've rested Dwight Howard in all their recent losses, and have firmly planted themselves in fourth place in the West. Any way you slice it, a loss against the Thunder wouldn't affect their most likely first-round matchup with the Trail Blazers much, other than changing who has home court advantage if they end up flipping spots.
Other Games
All times Eastern
Nuggets vs. Grizzlies, 7 p.m. (ESPN)
Magic vs. Bobcats, 7 p.m. (League Pass)
Cavaliers vs. Hawks, 7:30 p.m. (League Pass)
Sixers vs. Celtics, 7:30 p.m. (League Pass)
Pistons vs. Nets, 7:30 p.m. (League Pass)
Timberwolves vs. Heat, 7:30 p.m. (League Pass)
Wizards vs. Knicks, 7:30 p.m. (League Pass)
Bucks vs. Bulls, 8 p.m. (League Pass)
Pelicans vs. Jazz, 9 p.m. (League Pass)
Kings vs. Warriors, 10:30 p.m. (League Pass)