After unveiling a new logo Tuesday, the Jacksonville Jaguars also announced plans to build the biggest scoreboards in the United States in the end zones at EverBank Field, according to The Florida Times-Union.
The scoreboards will cost approximately $50 million, according to the story:
[Team president Mark] Lamping said that if they can finalize a deal with the city, which owns the stadium and would be responsible for paying for the scoreboards, in 60 to 90 days, the scoreboards could be installed by this fall. They would be about 52 feet high and 348 feet wide.
The Jaguars' Twitter account released a conceptual image of the potential scoreboards: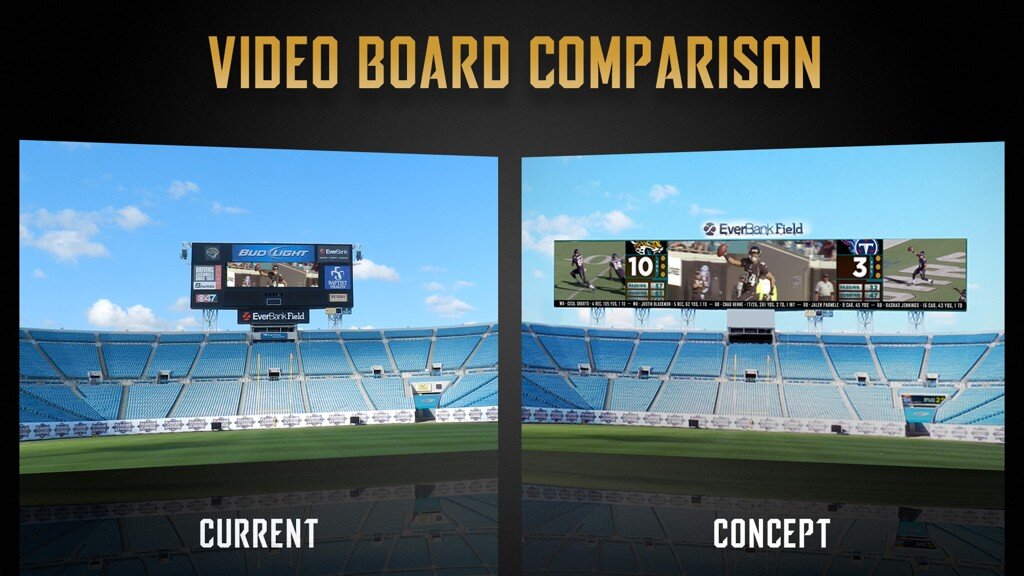 Lamping said it might be difficult to pass everything through the city right now, so the team will have to "come up with creative financing," including money generated by the stadium.
Local revenue will be important for the Jaguars going forward. The team ranked 29th last season and needs to improve that number to help rebuild the franchise.
Of course, if the team is going to have multimillion dollar scoreboards that will be the biggest in the country, it needs fans to watch them. The Jaguars ranked 20th in total attendance last season, which is the best mark out of any other Florida-based NFL team. It was an improvement for the Jags, who ranked 24th in total attendance in 2011.