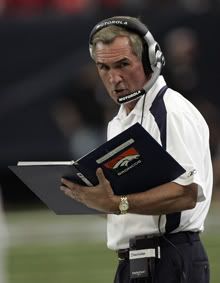 You'll never believe this, but Mike Shanahan has
another
featured back you have never heard of. This time, it's Peyton Hillis, a rookie fullback from Arkansas. (Yep, Darren McFadden's old crash dummy.) Hillis has taken the lion's share of Denver's rushes today, and has both Broncos TDs.
Denver leads Atlanta 17-13
in the fourth.
↵
↵Elsewhere ...
↵
↵* Daunte Culpepper started smooth, with a killer drive ending in a scramblin' TD throw to Calvin Johnson. From there, it has been less smooth. Sort-of rough. Culpepper tossed a bad interception on his next drive, and Carolina's own offense has woken up. The Panthers have more than 200 yards on the ground eight minutes into the third quarter, and
lead 24-16
. Maybe next week, Detroit.
↵
↵*
Epic battle in Indianapolis
! Joseph Addai scampered to the end zone after receiving a Peyton Manning pass to put the Colts up 16-13 in the third. But Steve Slaton answered immediately with a 71-yard burst for the Texans. But Addai was not done talking, and scored again quickly. Colts lead 23-20.
↵
↵*
Epic battle in Miami
! I'm so glad this was my only locally televised 1PM game. Ted Ginn and Patrick Cobbs have rushing TDs. Shane Lechler should seriously get consideration on NFL MVP ballots. Also, he should get consideration for Oakland's QB job. 14-5 Miami.↵
This post originally appeared on the Sporting Blog. For more, see The Sporting Blog Archives.