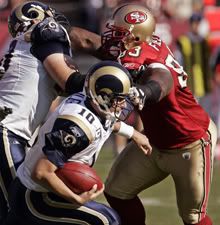 ↵Last week, the Rams went into halftime
trailing the Jets 40-0
en route to a 47-3 drubbing. Apparently, Jim Haslett's pep talk at intermission in New Jersey that the Rams wanted to hear it again. St. Louis trailed the 49ers (!)
35-3 at the end of the first half
this afternoon.
↵
↵As with the Jets game, St. Louis killed itself with turnovers, offering up three in 30 minutes this week, including two Marc Bulger interceptions. And though Shaun Hill (192 yards, 2 passing TDs, 1 rushing TD) is no Brett Favre, he has a good impersonation going. Frank Gore has a pair of TDs, as well.
↵
↵I know part of Scott Linehan's demise came from benching Bulger for Trent Green, but does Haslett have much to lose at this point? Bulger has six interceptions in the past 3-1/2 games. Those mistake-free wins against Washington and Dallas seem like a completely different galaxy right now. Maybe replace the entire defense while you're at it?↵
This post originally appeared on the Sporting Blog. For more, see The Sporting Blog Archives.