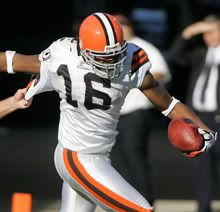 ↵The most exciting play in football -- no, not the Gus Frerotte QB scramble -- has made a few appearances this morning: both Cleveland and Tampa Bay have run back kicks for touchdowns.
↵
↵Josh Cribbs of the Browns went 92 yards in the first quarter against Baltimore. Cleveland had fallen behind 10-0 before the jaunt; Cribbs inspires! The teams are
square at 13 at the half
.
↵
↵
Later, in Missouri
... Bucs return man Clifton Smith had enough embarrassment at the hands on those funky Chiefs. After K.C. took a 24-3 lead late in the second quarter, Smith bolted 97 yards for a score. That might not have been the nuttiest play of this game, though: Mark Bradley (a receiver) took an end-around from the so-called Wildcat formation and heaved the ball 50 yards to Tyler Thigpen (a QB) for the score. (I'm as confused as you are.)
↵
↵Allow me to append a brief, non-wacky update to this post: the Lions have knocked Kyle Orton out of the game. Neckbeard took a big hit on the sidelines at the close of the half, requiring the QB to be carted off the field. Rex Grossman, put down your applesauce and lace 'em up! You have
a comeback to make
.↵
This post originally appeared on the Sporting Blog. For more, see The Sporting Blog Archives.