Each Sunday during college football season, Spencer Hall offers a letter-by-letter analysis of Saturday's college football games.
↵
↵
A is for Agape.
Your mouth after watching Michael Crabtree haul in a ball over his back shoulder, turn, maintain his balance, tiptoe along the sidelines and avoid two Texas defenders committing an EPIC FAIL in double coverage for the winning TD in a 39-33 defeat of No. 1 Texas. ↵
↵ ↵
↵
↵A single act of physical skill so arresting it can only be called beauty, and a nail in the coffin of Texas' national title hopes. ↵
↵
↵The Red Raiders ran the needle to empty as pirates should. Their coming-out party as a national program featured a last-gasp Longhorn comeback, a lunatic crowd in Lubbock that charged the field three times and forced a penalized final kick from its own seven-and-a-half yard line, and an ending so stunning it had the finality of real, sudden death. ↵
↵
↵Cap'n Leach made the beach with a leaking boat and burning sails, and if you want it any other way, we suggest you find a new boat, sailor. That's how Mike Leach does it, son. ↵
↵
↵B is for BEES!!! Georgia Tech forms the second chapter in our survey of the free-wheeling Old Western saloon brawl that was college football yesterday. The Jackets had not beaten Florida State since 1975, and they were poised to blow a 31-28 lead when Tech DB Cooper Taylor placed head on ball, forced RB Marcus Sims to fumble and generated a touchback. That allowed Tech to run the clock out, prevent collapse and get Yellow Jacket DT Darryl Richard giddily hit in the mouth by an overzealous Tech fan. ↵
↵
↵⇥"It was actually a Tech dude," said Richard, showing off a swollen upper lip. "I think he had been a little overserved when he came out (on the field)." ↵
↵
↵Tech lives on as the roulette wheel of the ACC continues to spin. In contrast, the 'Noles continue their pattern of nearing a "comeback," approaching the doorway to "resurgence," and then stumbling and knocking themselves out on the doorknob of "renaissance." ↵
↵
↵C is for Charming. When Georgia finally scored a garbage time TD to narrow the game at 49-10 late in the fourth quarter against the Gators' backups, a large contingent of Florida students rose and applauded the Georgia offense. Never say they're not courteous. ↵
↵
↵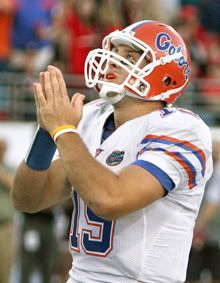 D is for Damage. No dancing, no You Got Served showdowns, no personal fouls (astonishing in itself, really) ... just vengeance dropped in 20 kiloton bombs from great height by Florida on Georgia at the Cocktail Party in Jacksonville. From the opening slam of Knowshon Moreno for a loss to the final wide-open TD pass to Percy Harvin from Tim Tebow, Florida nullified Georgia's presence on the field. ↵
↵
↵The victory was especially gratifying for Florida's defense, a unit ripped for large numbers by Moreno and Stafford in the 42-30 loss last season. Those numbers were literally built into the physiques of this team: 42 and 188, the points yielded and Moreno's rushing yardage, respectively, were the reps per set as prescribed by Florida strength and conditioning coach Mickey Marotti in offseason workouts. ↵
↵
↵E is for Extra Damage: The collateral damage done by Georgia's flopping in not one, but two, agenda-setting conference games could be substantial. Prior to this weekend, the SEC media consensus was that there were three good teams in the SEC. Now, with Georgia thoroughly depantsed on national television against Florida and Alabama, the creeping sensation that this is a thoroughly down year for the SEC will take even firmer hold. (And justifiably so -- this is a weakened SEC.) ↵
↵
↵It's a two-team conference at the moment, and perceptions of relative conference strength versus the Big 12 could influence BCS scenarios down the road in large ways. ↵
↵
↵F is for Foiled. As in expectations and predictions. A struggling Cal team upends Oregon, Virginia's renaissance fizzles against a stubborn Miami team, a freshly-humiliated Pitt rebounds in four overtimes versus Notre Dame, Northwestern beats favored Minnesota, and Cincinnati welcomes ranked South Florida to Nippert Stadium with a smile and a sock full of pennies. The anarchy will continue until morale improves, and then will continue some more. ↵
↵
↵G is for Gunslinger! Gary Danielson praised Matt Stafford as being "like Brett Favre" and labeled him "a gunslinger" in his call of the Florida/Georgia game. Seconds later, Joe Haden intercepted Stafford for the back-breaking pick at the Cocktail Party -- the pick was indeed Favre-esque. ↵
↵
↵H is Harumphing (Danielson cont'd.) Further opprobrium for the otherwise astute CBS color guy comes from his comments that "junk offenses" like the spread have jumped the shark. As of this morning, six offenses in the top ten run some variant of the spread. He will undoubtedly persist in telling four-wide running sets to get off his lawn, though. ↵
↵
↵I is for Impartiality. ESPN understands something crucial: While announcers should remain studiously impartial, networks should embrace the obvious biases of studio analysts. Lou Holtz and Mark May both do a fine job of running both with and against the grain of being obvious fans and enemies of certain programs (see May's awesome line a few years ago about West Virginia fans throwing pennies "because they were too cheap to throw nickels). Their bickering over the Pitt/ND game was entertaining and genuine, and at no point overwhelmed their nuts-and-bolts analysis of the game. Also, Holtz is an immensely entertaining loser, because he looks like he's about to swing on someone at any moment, even when he's smiling and laughing. ↵
↵
↵
J is for Jayhawk'd. Below the radar on the coaching drama stage, but worth noting: Kansas' 52-21 clubbing of the Kansas State Wildcats likely capsizing the short career of Ron Prince at K-State. The entire state is Mangino's buffet, and Prince has been reduced to eating JUCO scraps. ↵
↵
↵K is for Knotty. Texas, Texas Tech and Oklahoma have entangled themselves in a fine knot in the Big 12. The Tech victory means that if Tech loses to Oklahoma, a three-way tie at the top of the Big 12 congeals, and then the whole thing goes down a rabbit hole of division record tiebreakers and eventually has Sooner fans rooting for TCU in a confusing twist of fate, and ... well, just read this. I'm pretty sure this will all end with a game of rock-paper-scissors behind the Big 12's closed office doors, and if you think Mike Leach doesn't have an innovative strategy for winning this scenario, you are wrong, matey. ("I threw 'hook.' Deal with that, Bob Stoops.") ↵
↵
↵L is for Lingering. USC covered a 47-point spread, ho-hum, just lingering around. Waiting in the weeds for a national title while everyone else takes each other out? Preposterous. That's like saying that's our hand on the small of your back, baby ... which it is. Say, you're looking beautiful tonight. ↵
↵ ↵
↵
↵M is for Mastery. Cincinnati now holds the deed on South Florida. A maniacal performance gave them their third victory in a row over the Bulls in decisive fashion, derailed South Florida's hopes of keeping pace in the Big East, and let everyone know that Mardy Gilyard, in addition to being a superb wide receiver, also loves the kids. ↵
↵
↵ ↵
↵
↵The Bearcats earn bonus points for getting in the ghoulish spirit of the holiday by showing a "bearcat-o-lantern" on the screen and blasting the theme to Halloween over the speakers. ↵
↵
↵N is for Nolo Contendere. Tennessee, charged with being mediocre in every sense of the word, pled no contest against South Carolina, 27-6. The moment of sad hilarity encapsulating this week's futility: offensive coordinator Dave Clawson benched quarterback Nick Stephens for loping during an interception return, only to have backup QB and former starter Jonathan Crompton fumble the ball on the ensuing possession. ↵
↵
↵Arian Foster commented on the situation by saying "VEEK! VEEEEEEK VEEEK VEEEEEEK VEEEEEEEEK!" ↵
↵
↵O is for Orange you glad you played Syracuse? Heavens no. Every coach has an opposite who, despite records and recruiting and budgets, just happens to own them. Greg Robinson, while your own coaching house is deep into foreclosure and seizure, you hold the deed to someone's manor: Steve Kragthorpe. ↵
↵
↵Get out the lava soap and heavy industrial cleaners to get that shame off you, because you lost to Syracuse this weekend. No need to worry about three in row, however, as Syracuse has already hired Chuck Neinas as a consultant to find its next coach, ensuring Robinson is a dead man walking, vocationally speaking. ↵
↵
↵P is for Positioning, people. Positioning. The Bell Ringer in Lubbock needs to move that thing up a bit. No, no ulterior motives here. It's just that I'm sure it's easier on the arms that way. ↵
↵
↵ ↵
↵
↵Q is for Querulous. The grand conflict of the pre-bowl season remains sentiment-versus-sense. Does Penn State get a spot in a championship game with two one-loss teams with greater schedule strength waiting in the wings? The early indications favor sense, as Texas Tech hopped Penn State to take the No. 2 spot in the AP poll, meaning Tech's relatively poor SOS gets greater respect than PSU's. Add in a conference championship game for the Big 12 and SEC champs and a lurking USC, and Penn State's hand is looking weaker and weaker, with their only hope being a straight flush of sentiment for JoePa winning the pot. ↵
↵
↵R is for Redonkulous. Texas Tech can now run the ball, too. This is kind of like finding out rattlesnakes have developed wings and can now kill with one bite ... while flying. ↵
↵
↵
S is for Shady. LeSean McCoy earns the Mandom Award for the week: 32 carries, 169 yards and 1 TD. Most importantly: zero fumbles. McCoy does not have a problem fumbling the ball, but we mention it just to drive home the importance of not turning the ball over in a defensive-minded four-overtime game on the road. The Wannstache appreciates the attention to detail. ↵
↵
↵T is for Thirty-three. As in the 33-year bowl streak for Michigan, snapped after a 48-42 loss to a Joe Namath-level strug-guh-ling Purdue team. ↵
↵
↵U is for Underwhelmed. Dennis Erickson was caught on camera screaming a profanity rhyming with "dull fit." Sometimes, the summary of an entire season can be found in a single word. And though it is unprintable here, Sun Devils fans would likely agree with the total dull fit of 2008, especially a 27-25 loss to Oregon State and tiny quark-back Jacquizz Rodgers. (It's okay, Coach. You came closer to beating them than USC did.) ↵
↵
↵V is for Vegas Wins Again. Text message from friend, Friday 4:00 p.m. EDT: ↵
↵
↵"Tell you what I'd take: A 30 point underdog to Stanford? WSU is awful but id take that." ↵
↵
↵Me: "Hellz yes!" ↵
↵
↵This is why Las Vegas wins: Washington State IS that bad, and lost 58-0 to Stanford, and cost innocent morons cold hard cash by proving the oddsmakers wise and correct again. ↵
↵
↵W is for Wasteland. The state of Washington, for the record, was outscored in Pac-10 competition 114-0. The last state to take a lopsided beating like this from outside invaders ended up building the Great Wall. ↵
↵
↵X is for XXL. Or the size of the OK State offense: 682 yards of offense on Iowa State in a win for a team still very much in the mix for a Big 12 title. ↵
↵
↵Y is for Young 'uns. Miami is young, flawed, occasionally undisciplined and undeniably gifted ... especially Laron Byrd, who truly is his own one-man Wu-Tang Clan. ↵
↵
↵Z is for Zorro. The Red Raider, who looks just like Zorro after he wised up and bought some guns instead of carrying around a sword, could have been useful on crowd control duty Saturday night. The Lubbock crowd washed over the field twice before the final seconds ticked off the clock, drawing an unsportsmanlike conduct penalty and getting the kickoff moved even further back (after a prior penalty) to the seven-and-a-half yard line. ↵
↵
↵To recount: Texas Tech now has a rider on a horse, a cartoon mascot that looks like Yosemite Sam, a bell-ringer, a whole section calling themselves "Mike Leach's Pirate School," and for Halloween, a whole group of students painted up like Heath Ledger's Joker. Texas Tech football: wacky costumes required. ↵
↵
This post originally appeared on the Sporting Blog. For more, see The Sporting Blog Archives.