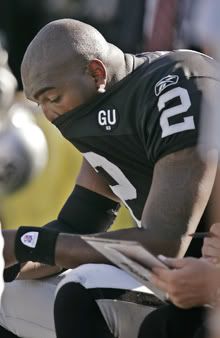 In canning Lane Kiffin, Darth Davis insisted the young coach had been hurting the franchise from the inside. If that was indeed the case, then what Tom Cable has been able to accomplish in sabotage in his few weeks as head of the Oakland franchise is truly remarkable. Through Kiffin's four games, Oakland had an average points margin of about -6.
↵
↵Assuming Atlanta's
24-0 lead holds up
, Cable's points margin will be close to -17 per game. I mean, Kiffin's Raiders were bad: 1-3, little hope, little reason to watch (besides the Sebastian Janikowski 76-yarder). Cable's Raiders are actually offensive to me. Like, actually having the team suit up and take the field insults me a great deal.
How dare you
, Tom Cable?
How dare you
allow this to happen to my living room?
↵
↵Jamarcus Russell is 4-for-14 ... and he hasn't even looked that good. Oakland has 24 total yards, one first down in nine drives. Meanwhile, that stout defense has allowed Matt Ryan to frolic about with nary a care in the world (Matty has about 200 yards and two TDs) and has watched the Falcons rack up more than 200 yards on the ground.
↵
↵All of ... this, it's not Cable's fault. But the team played hard under Kiffin. The team actually competed under Kiffin. They didn't win much, and Russell wasn't Pro Bowl- bound or anything. But they tried. Davis' blame game completely destroyed any spirit the guys in Silver and Black had. I don't blame them for being so terrible. It's Al's fault.↵
This post originally appeared on the Sporting Blog. For more, see The Sporting Blog Archives.