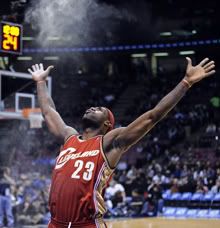 ↵New York basically
forfeited the rest of the season
by trading two of its most productive players for mediocre Al Harrington and abjectly terrible Cuttino Mobley and Tim Thomas. It's got to be at least a touch stinging for Knicks fans and the longest tenured 'Bockers, like David Lee and Nate Robinson. The Knicks haven't been this competitive in years. Nate Rob, in fact, sees further psychological damange: exiled Jamal Crawford and Robinson share a hometown and a lot of love.
↵
↵Still, Nate's no dummie. He understands what the day of reckoning was all about, and
he's not afraid to discuss it publicly
. From the
New York Times
' Howard Beck: ↵
↵⇥[P]layers knew exactly why the deals were made — for salary cap space in 2010, and for the potential prize that awaits.
↵⇥
↵⇥"For LeBron," Robinson said, referring to the Cleveland star LeBron James. "Everybody knows. Everybody's got to see the bigger picture." ↵
↵Everybody knows, indeed. (And talk about timing: LeBron makes his first visit of the season to Madison Square Garden on Tuesday.) I don't think the punditry has realized just how much space Donnie Walsh freed up on Friday, though: if N.Y. manages to move Eddy Curry or Jared Jeffries for expiring contracts within the next 18 months, the Knicks could find themselves far enough under the cap to sign two of the major 2010 free agents. Two of them. LeBron and Chris Bosh? Dwyane Wade and Amare Stoudemire? If I were a Knick, I'd be trying my best to make myself indispensible.↵
This post originally appeared on the Sporting Blog. For more, see The Sporting Blog Archives.