Each Sunday during college football season, Spencer Hall offers a letter-by-letter analysis of Saturday's games.
↵
↵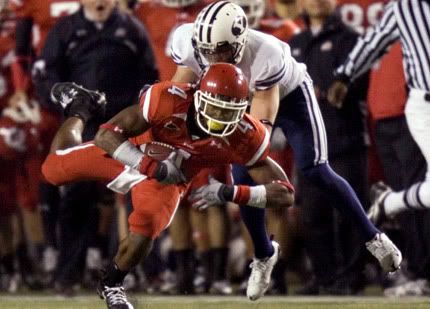 ↵
↵
↵A is for Audition Tapes. As in, your audition tapes did not impress, and we will not likely be inviting you to be a part of our reality show. "BCS Busters" (trademarked by anonymous schlocky columnist) Ball State did not dominate against Central Michigan in snowy Mt. Pleasant. Boise State eked out a tennis match and held serve against Nevada, 41-34, surviving a last-minute flurry by Nevada. ↵
↵
↵Utah now slides into the BCS with a 48-24 win over BYU, a win made possible partly through the charity of Max Hall. Hall threw 5 INTs to the Utah defense, but luckily for him, the game was on the Mountain West's boutique television network, so no one actually saw Hall's meltdown. (Or Utah's muscular defeat of BYU, for that matter.) ↵
↵
↵B is for Bedlam. The mauling of Texas Tech in Norman turns bedlam loose on the Big 12 side of the national title picture. With a three-way tie in the Big 12 South, the tiebreaker goes to the team with the best BCS rating. Two-thirds of that begins with the polls, which begins with the voters, which explains why Mack Brown was on ESPN's Gameday launching his charm-offensive schmoozing with Corso & Co. ↵
↵
↵Bedlam also applies in another way. The Bedlam Game next week in Stillwater could muddy the picture further should Oklahoma State beat the Sooners, which it will, because that would make things more confusing, and because that is what this system is designed for. Utter and complete confusion. ↵
↵
↵
C is for Crabs (in a bucket.) As in the ACC, where one team crawling from the bucket makes it to the lip, but is then caught by the leg by another crab and dragged back in. Miami lost a division-clinching game to Georgia Tech by 18 points after winning five in a row and allowed 472 yards in doing so. Maryland, the only team without three conference losses going into this weekend, picked up their third from Florida State. North Carolina, who two weeks ago looked like the ACC's top-shelf vintage, lost by 31 to the conference's worst team, NC State. ↵
↵
↵There is only one possible explanation for the weekly chaos: ACC teams are required, by rule, to switch jerseys before the game and then play their assigned matchup for the week. ↵
↵
↵D is for Doors, Revolving. The ease with which Oklahoma decimated Texas Tech stems from the brute force applied at each and every spot along the offensive and defensive lines. The much-hyped Texas Tech offensive line could not block four with five; and the allegedly much-improved Red Raider defensive line skated backwards harmlessly like blocking sleds behind the Sooner O-line. The Oklahoma lineman are owed naught but the finest of steaks purchased by the Sooner skill players this week. ↵
↵
↵E is for Exact. Best Gameday sign seen in Norman: ↵
↵
↵Hey Mike Leach : Vince Gill wants his face back ↵
↵
↵The comparison is frightening in its accuracy. ↵
↵
↵F is for Four Hundred and One. The total yards allowed by the Texas Tech defense in the first half, including 152 yards and two TDs for DeMarco Murray alone. ↵
↵ ↵
↵
↵G is for Gumball. Blow the fuses of your mind as Robert Marve, quarterback for the University of Miami, throws an interception to six-foot, seven-inch Michael Johnson of Georgia Tech on Thursday night. ↵
↵
↵ ↵
↵
↵So much goes wrong here for Miami: Marve failing to recognize a zone blitz; the lineman failing to chop the retreating Johnson and then belly-flopping; and then the improbable decision to attempt the pass over a man the size of an NBA forward who happens to be wearing a bright white uniform very clearly not belonging to a Miami player. ↵
↵
↵The only thing Johnson could have done to make himself more obvious would have been strapping a gumball light to his head and waving sparklers in each hand, something the bright young men at the North Avenue Trade School can surely rig up in a matter of minutes for the Olympian-looking defensive end. ↵
↵
↵H is for Horse-collar. Wasn't this a rule change? Was it a typo in the officials' preseason memo? Did we just all decide not to call that, much like holding isn't called in the ACC anymore? ↵
↵
↵I is for Imp. CBS made a point of showing Houston Nutt's gesticulating spasmodically as often as they reasonably could during Ole Miss/LSU: grabbing his elbow in a holding gesture with eyes wide open and teeth bared; waving away officials in disgust; sending in incomprehensible signals. ↵
↵
↵Even if the Rebels play hard because they're terrified of the crazy man making baffling, nonsensical pantomime on the sidelines, it works like hell. Ole Miss beat LSU, and could be playing in the Cotton Bowl on New Year's Day, precisely where Nutt was coaching last New Year's for Arkansas. ↵
↵
↵J is for Jack Links. The Jack Links Beef Jerky commercials -- the ones where Sasquatch lays deserved beatdowns on meddling humans -- during Michigan State/Penn State seemed like a good enough metaphor for what was going on in the game. Mark Dantonio skids out on his bike and splashes out JoePa's campfire; Sasquatch Paterno throws a shrub at him and knocks him headfirst into a tree. (This also summed up yesterday's early slate of games, as well: lopsided beatdowns all around until the 3:30 p.m. EDT hour.) ↵
↵
↵K is for Knives Out. Abilene Christian won their D-2 playoff game over West Texas A&M by a score of 93-68, scoring on 13 of 15 possessions and attempting laterals at the end of the game to take a shot at 100 points. In other words, it looked a lot like the Texas Tech/Oklahoma game, but with scoring on both sides. ↵
↵
↵
L is for Lack. Ty Willingham, with Cal's assistance, may complete a truly monumental feat next week: a winless season in the era of the 12-game schedule. You know it's a biting contest between toothless retirees when a double overtime game ends at 16-13, but in the end Washington State won by nibbling the Huskies into submission. Willingham will end his coaching career at UW by leading the Huskies to their first winless season since 1890. On the upside, though, he is now free to reapply for his old gig at Notre Dame. ↵
↵
↵M is for Make-do. Dear Oregon State, ↵
↵
↵Fate here. We're going to take away your starting QB and star running back and see what you can do. In response, you will grit your teeth, hold tight, and heave a late bomb to a player who wasn't even on the team at one point in 2007 due to depression, the reborn Sammie Stroughter. ↵
↵
↵That will get you a game-winning field goal and a 19-17 victory over Arizona, and will save you from possibly losing your shot at the Pac-10 title on a late missed extra point. You have passed this test, and we'll see you next week versus Oregon, where we will give half your starting offensive line a stomach virus and temporarily blind your placekicker just to make things interesting. ↵
↵
↵Sincerely, Fate. ↵
↵
↵p.s. Nice job, sirs. ↵
↵
↵N is for the National Rifle Association. ESPN is missing a key endorsement opportunity by not having the NRA sponsor any and all Lee Corso mascot picks involving firearms. After discharging two stockless shotguns for the Texas Tech pick in Lubbock two weeks ago -- totally blind while wearing a Red Raider head -- Corso put on a Boomer Sooner cap and blasted off one RufNek shotgun before misfiring on another. When Corso began to wave around the dud-loaded weapon, Chris Fowler looked legitimately frightened for his life. Old people + fake firearms equals COMEDY. FOX Original Content, I am ready to shoot Old People With Guns in Public when you are. ↵
↵
↵O is for Overkill. Style points matter, even when you happen to be playing a shamefully overmatched opponent from D-1AA. Urban Meyer said he would be surprised if Florida didn't score 60 on The Citadel, and he remained his normal calm self as they racked up 49 at the half and 70 in all against the Bulldogs. ↵
↵
↵This may seem tacky, meaningless, and unfair, but some major conference teams actually struggled with their D-1AA opponents on Saturday. Nothing is given. (Okay, except a 51-point victory over the sixth place team in the Southern Conference. But other than that, nothing is given.) ↵
↵
↵P is for Pedantic/Pissed-off. As in Michigan State coach Mark Dantonio, who called two time outs with under 20 seconds left in a game where the Spartans were down 49-10. The first, as ESPN announcer Mike Patrick astutely pointed out, may have been to correct a bad play-call or some such snafu. The second? Either Dantonio was calling it as an object lesson to his players, who had just spent the majority of their time getting dragged and kicked from one end of the frosty field to the other, or he was being spiteful and doing it simply because he had it. ↵
↵
↵Either way, that bizarre double TO spasm and the call to kick a field goal from the Penn State 13 when the Spartans were down by 35 has us placing Dantonio on the possibly insane watch list for coaches. You may find this disrespectful, but please note that I am wearing a tie as I type this, and this makes it all OK. ↵
↵
↵Q is for Quorum. Getting enough teams bowl eligible to fill all the available slots will still happen despite worries by bowl officials. What they should be concerned about is the quality of the games. There will be some rank, rank bowl games thanks to the glut of new bowl games ... except for Maryland versus San Jose State in the Emerald Bowl, of course, ↵
↵
↵R is for Rolle: Rhodes scholar and All-American Myron Rolle of Florida State would like to let recruiting dork Tom Lemming know that that whole choosing Florida State over Duke and Stanford thing worked out just fine for him. ↵
↵
↵S is for Snowballs. Notre Dame players, a county policeman, and an NBC cameraman were all hit with snowballs thrown from the stands at the Syracuse/Notre Dame game, where pre-game accumulation became manifested in-game frustration for fans seeking to vent over losing to Syracuse. You may find this unacceptable behavior, and you can't ask a reader to condone such unruly violations of the public order as assaulting players with cold, hard balls of frozen water. ↵
↵
↵But, though you may not condone their actions, a part of you understands. Especially if we remind you that Syracuse's prior wins came against Louisville and D-1AA Northeastern, and that their coach was fired last week and is just coaching out the string. ↵
↵
↵Don't fear if you do frown upon the snowball tossers. Knowing the "proactive" police presence and general tight-pantsedness of ND gameday security, the offenders were likely tased and stuffed in bags, and awoke in spartan quarters in Guantanamo Bay. ↵
↵
↵T is for Trebuchet. A moment of recognition for the oft-neglected punters, especially the Robert Joneses of the world in particular. Jones' ballistic 74-yarder against San Jose State not only flipped the field for Fresno State, but was loud enough on TV to be confused for a transformer exploding on a nearby utility pole. Fresno State's special teams saved the few remaining non-gray hairs in Pat Hill's mustache all night: Chase Westin's 49-yard return for a TD in the third began a run-dominated pair of drives to take the lead from SJSU and win 24-10. The Bulldogs ran on 24 of their last 25 plays. ↵
↵
↵U is for Unblemished: Alabama, Utah, Boise State, and Ball State are your last remaining members of the spotless white suit club. Brush that dirt off your shoulders, gentlemen. ↵
↵
↵V is for Virtuoso. Or "VROOOOOM." Either will do for Pat White, who with a 200-yard effort against Louisville, became the NCAA's all-time leader in rushing yards with 4,292 yards on his career. Now remove White from the Mountaineer formula and consider what West Virginia will look like the next two years. Yes, we do know how to ruin a party. I'll take off the party hat and show myself out. ↵
↵
↵W is for Withstood. As in any and all shots administered to Tony Pike's broken non-throwing arm in Cincy's 28-21 defeat of Pitt. Brian Kelly, potentially on the way to the job at Tennessee, is owed much ovation for ... wait, wait. Tony Pike is playing with a broken arm? Playing football? And completed 26 of 32 for 309 yards and 3 TDs? ↵
↵
↵Okay, revise: Tony Pike is now officially this week's MANDOM Player of the Week. All the world loves Tony Pike, and he lives in the world of MANDOM. ↵
↵
↵ ↵
↵
↵Tony Pike, you may select your pipe from the pipe rack and coat yourself in some of Charles Bronson's favorite Japanese cologne. Also, after the Syracuse game, you might want to LET YOUR BROKEN ARM HEAL AND NOT LET PEOPLE HIT IT WITH FOOTBALL HELMETS. Just a thought. ↵
↵
↵X is for XPA :-( Division 1-AA Cal Poly could have tied Wisconsin in overtime with a made extra point attempt. They missed, letting Wisconsin off the hook of a potentially shameful loss to a team that, while 8-2 and 3-0 in the Great West Conference, should not be in overtime with the Badgers. If you were looking for the instant when the Bielema regime clearly broke from the Alvarez era and demonstrated clear signs of slippage ... this may be it. ↵
↵
↵Y is for Yams. Or any other inert, mindless piece of dumb matter. I made a bet with myself that Mike Lupica would mention Florida playing The Citadel, one of the shameful cash-grab games almost every program plays to get a sixth home game. It happens that by schedule, Florida's lands in late November after Florida put Miami back on the schedule and played Hawaii early. ↵
↵
↵Then, like clockwork, there is corpse-gray Mike Lupica (get some sun, man) on my television screen at 9:31 a.m. Sunday morning. "What was Florida thinking?" Thank you, Mike Lupica, for not only being an idiot, but being a repetitive idiot. It makes getting angry that you are paid to speak for a living something I can put on my calendar. ↵
↵
↵(Watching the Sports Reporters talk college football is like watching apes attempt to land a 747. It's horrible, ineptly done, and will end in flames, but they're all wearing ties and I can't stop watching.) ↵
↵
↵Z is for Zombo. As in Frank Zombo, the Central Michigan defensive end who has a name that belongs on a renegade-special-ops-man-turned-black-market-arms-dealer in a Jason Statham movie. ↵
↵
This post originally appeared on the Sporting Blog. For more, see The Sporting Blog Archives.