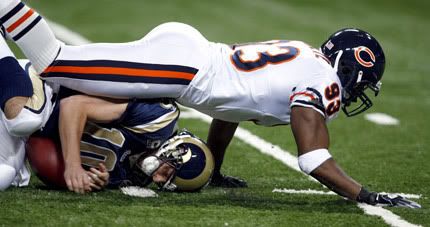 ↵
↵
↵Bad habits are hard to break. The Lions can't hold a lead this season. For
the third straight game
, Detroit jumped out to a lead. But this time, the futile Lions didn't wait a quarter or two to relinquish said lead -- the team immediately handed control back to the opponent. Detroit came out blazin' to a 17-0 lead on the strength of Daunte Culpepper's arm, Kevin Smith's legs and a long fumble recovery/return by Daniel Bullocks. That lead lasted 12 minutes. Tampa Bay stormed back with three TDs unanswered and leads
21-17 at halftime
. I feel like I keep repeating myself, but: maybe next later this week, Detroit.
↵
↵Meanwhile, St. Louis' streak of first-half impotency is venturing into Absurd Land. Two weeks ago, the Rams trailed the Jets
40-0 at halftime
. Last week, it was
a 35-3 deficit
to the Niners. Today?
St. Louis trails 24-3
at the break. Improvement!, I guess. That's a three-week first-half margin of 99-6. Here are some guesses as to what is keeping the Rams from overcoming early suck:
↵
↵* Albert Pujols maintains his monopoly on all regional Wheaties.
↵
↵* Onion rings, battered prawns and ribs are not good pre-game snacks.
↵
↵* This scientific study
with the Viagra
isn't really helping anyone get rested Saturday night.↵
This post originally appeared on the Sporting Blog. For more, see The Sporting Blog Archives.