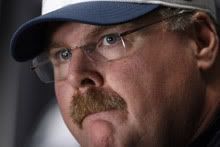 Given the circumstances of the past week, it can be understood if Andy Reid and Donovan McNabb feel a little anxious. Reid's questionable play-calling and his team's apparent lack of preparation in last week's tie against awful Cincinnati has the longtime Eagles coach insight of a potential sacking at year's end. McNabb's brutal honesty in admitting he had no idea
NFL games could end in a tie
to go along with a rather brutal performance against the Bengals has the half of Philadelphia that isn't still celebrating the Phillies' World Series title up in arms. So again, these fellows should have fluttering stomaches. It has been a rough week.
↵
↵What are we to make, then, of Reid's halftime benching of his longtime quarterback? It certainly isn't solidarity among friends, that's for sure. In a tactical sense, McNabb was again ineffective and Kevin Kolb is a decent arm off the bench, even at his inexperienced state. But in terms of overall strategy, this is akin to shoving the first mate off the edge of the ship as it threatens to go down. Maybe there's no honor among professional athletes and their coaches/managers. But the long, symbiotic Reid/McNabb relationship makes this unspeakably intriguing for the armchair psychologist.
↵
↵If Reid keeps McNabb playing through the rough spots at this point with Philly's season on the line, maybe they both walk the plank at season's end. By sending McNabb off early and turning to the team's future (Kolb), can Reid save himself? A risky gambit that isn't going so well so far: by my count, the Eagles offense under Kolb has 15 yards in four drives. Kolb has two interceptions, one of which Ed Reed took 108 yards for a score. Philadelphia, down 10-7 when Reid pulled McNabb,
now trails 29-7
.↵
This post originally appeared on the Sporting Blog. For more, see The Sporting Blog Archives.