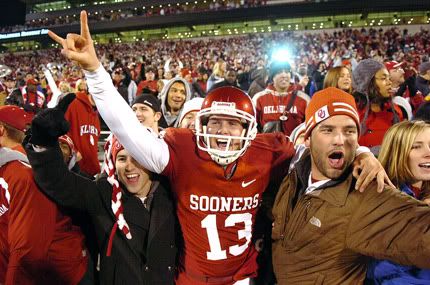 ↵

↵Each Sunday during college football season, Spencer Hall offers a letter-by-letter analysis of Saturday's games.
↵
↵A is for Arena League. Someone must be mistaken. Either the Big 12 South has figured out something about football other teams have missed for the past hundred years or so, or some kind of ban on defense has been declared in the Big 12. ↵
↵
↵Oklahoma has scored over 60 points four games in a row, and scored on eight straight possessions against Oklahoma State Saturday night in a devastating, game-clinching run that had the Cowboys defense openly weeping on the field. Texas modestly kept things to a 40-point margin of victory against A&M. Texas Tech, on the receiving end of OU's blowtorch last week, has to console itself with a meager 44.6 points a game as the third banana in conference. ↵
↵
↵This presents a question for the upcoming bowl season: is defense merely optional in the Big 12, or is this just the byproduct of three or four (don't forget Ok. State, which averages 41 a game) offenses all hitting their stride with optimal personnel at the same time? ↵
↵
↵If you do cast your virtual ballot for Texas, you have one convincing argument on your side: the only team that plays any defense in the Big 12 South is also the only one who dealt the Oklahoma Cloverfield monster a loss. As horrifying as they've looked over the past four games, they still lost to Texas, which sometimes likes to tackle the guy with the ball and prevent him from scoring. ↵
↵
↵B is for BEEEEEEEES. Just three yards and a cloud of dust. Geico football -- so easy a caveman can do it. Will never work. Too simple. Too predictable. A blast from the past soon to return with a whimper. Cromag football not fit for this century. ↵
↵
↵The preceding statements? All grossly incorrect assessments of the beguiling flexbone of Paul Johnson. Georgia Tech completed one pass Saturday, allowed 42 points and a career day to Matt Stafford, and still took their missing link offense into Athens and walked out with snippets of the hedges in a 45-42 victory over Georgia. 409 yards rushing, 38 points of scoring offense, and a snapped losing streak to Georgia means Tech will happily get their caveman on any time you care to mock their punishing shell game of an offense. ↵
↵
↵They'll also have the roast duck and mango salsa. Please send the bill to Willie Martinez at table four, please. ↵
↵
↵ ↵
↵
C is for Croom'd.
Sylvester Croom made his living as the
death cat of the SEC
. A visit from him and a subsequent loss meant doom for Ron Zook, Mike Shula, and Ed Orgeron, all of whom were fired in seasons that included a loss to the Bulldogs. ↵
↵Requisite kudos and eulogies will be made about Croom's tenure. It was an historical one, since Croom was the first black head coach in the SEC. It was a sporadically successful stretch, too. Miss State recovered somewhat from the ravages of the Jackie Sherrill era to go to a bowl game last year, and played competitive football throughout Croom's tenure. He also demonstrated a sterling track record with player discipline, ran his program "the right way," and once suited up and played on the line during practice as a motivational gambit for his players. Much good can be said of him. ↵
↵
↵Niceties aside, Croom should be remembered on the football field as an offensive coach whose offenses never scored. This year's unit is 113th in the nation in total offense, and it never finished in the top 100 nationally. Croom's departure may reduce the total number of black head coaches to a shameful total of three, but being truly colorblind means valuing quantifiable results over all else. Croom resigning -- rather than being fired -- is tacit acknowledgement of this. ↵
↵
↵D is for Decimated. The act of disciplining a Roman military unit by killing every tenth man. Any number of units suffered this fate, apparently playing one side of the ball with ten men (or at least appearing to.) Notre Dame's offense, which gained their first first down at the end of the third quarter against USC; Georgia's defense, whose safeties appeared to be playing with eyepatches; or Oregon State's entire defense, which prepared for the Oregon game by coating their arms with generous helpings of slick, buttery cooking spray. (More on that ghastly effort later.) ↵
↵
↵E is for Encourageous. Mark Mangino used the purely invented word "gutty" to describe Todd Reesing's game against Mizzou, and though it's just gibberish, we'll go with it in Reesing's honor: 37-for-51 for 375 yards, 4 TDs, and a game played through repeated hammerings from the Tigers, including one blow so hard his coaches thought he was knocked out. All well worth a 40-37 comeback victory over Mizzou, and outlandacious guttiness from a mantastic quarterback. Reesing is our Mandom Award Winner for the week. Congratulatations, Todd. Gutty, indeed. ↵
↵
↵F is for Fakery Failed. The first funniest thing we saw this weekend: ↵
↵
↵ ↵
↵
↵G is for Grizzly/Grisly. As in the beards and accompanying results on both Tennessee QB Jonathan Crompton and the entire Oregon State team. One helped. Jonathan Crompton, sporting a beard I will dub "the Moonshiner's Neckwarmer," threw for one TD, ran for another, and for the first time, obeyed the prime directive of quarterback play: "Do no harm." Oregon State's beards seemed to grow into their eyes, as they blew a Pac-10 title shot by missing every Oregon runner on the field. (They were wearing neon yellow cleats. How can you miss that?) ↵
↵
↵H is Hate. From ESPN -- not the paranoid minds of message boarders who insist the opposition holds mini-Mardi Gras whenever a member of their team is injured on the field -- we have real, live nastiness from a fanbase to an injured player in the Florida/Florida State game. ↵
↵
The Seminoles fired up Tebow before last year's game when linebacker Geno Hayes vowed to "take him down." This time, the FSU fans offered Tebow a little extra motivation. ↵

↵They cheered wildly when Harvin, the team's leading receiver, left the game in the second quarter with a sprained right ankle. He limped off the field with the help of trainers and didn't return. ↵

↵
↵
↵Tebow carried Seminole defenders on his back for a four-yard touchdown a few plays later, and cited the cheering of an injury as motivation. Deplorable work by the Florida State crowd, though some did fine work in cheering the Seminoles on in non-offensive ways that were not dependent on someone else getting hurt. ↵
↵
↵
↵
↵
↵The use of oil-based paint to prevent smearing in the rainy conditions of Tallahassee? That's planning. ↵
↵
↵I is for Inquiry: Bill Stewart's clock management with under two minutes left in the Pitt game brings up the issue of what to do when you are out of timeouts and on defense with under two minutes to go ... a question that may be answered by letting Pitt score and getting the ball back. ↵
↵
↵Situation: At 1:54, Pitt has a 3rd and 1 on the WVU 1-yard line, and is down 15-13. Pitt can score a TD or kick a field goal to win, both extremely likely given the game conditions. The most important thing at this point in the game becomes possession and clock, not preventing the Pitt score. (Preventing it is a heroic but highly unlikely scenario.) ↵
↵
↵Out of timeouts, there is only one real way to stop the clock and get possession: allow Pitt to score. It is not without precedent -- the extremely uncrazy Steve Mariucci pulled this exact move in the NFL when he was out of timeouts. Stewart opted to grind out the rest and hope for a stop and a FG block. ↵
↵
↵Pitt scored, missed the two-point conversion, and held a four-point lead and gave the ball back to WVU with 44 seconds on the clock. Had WVU let Pitt score uncontested, they could have had around a minute and a half to get a TD. It's not an easy or conventional call, but it is one that in retrospect could have given the Mountaineers more time to pull out a comeback. (Armchair coaching! Catch the fever.) ↵
↵
↵J is for Jedi. Sam Bradford's line: 30/44, 370 yards, 4 TDs, and no INTs. Numbers cheapen the way it looked, though. Bradford missed nothing. No space unexploited between linebackers, no ball underthrown ... even his receivers' drops went for TDs, as a tip off the hands of a wide receiver on a perfectly thrown ball went caroming into the air and into the hands of TE Jermaine Gresham for a TD. ↵
↵
↵He needs to work on his Jedi levitation skills, though. ↵
↵
↵ ↵
↵
↵K is Knowshon. As in Moreno, who along with Matthew Stafford is gone to the NFL most likely as a first-round pick. The best backfield Georgia ever had goes out with as bitter a 9-3 season as one can have. Now cue the pitchforks and torch crowd; your target is Georgia defensive coordinator Willie Martinez, and you have evidence aplenty to bring with you to the kangaroo court. ↵
↵
↵L is for Large. Boise State led Fresno State by a meager three points at the half, 13-10. Boise finished the game by scoring 48 points unanswered. The lesson? Lose early to them, and they may spare you a 48-point half. Boise will accomplish what only one national title contender at this point may claim: an untarnished, shiny, undefeated regular-season record for 2008. ↵
↵
↵M is for MACnificent. Ball State also finishes an undefeated season, and deserves congratulations not coming from David Letterman ↵
↵
↵N is for Ninety-Six. Or the total number of yards gained by Notre Dame against USC. Clausen's line alone draws flies and scares the children: 11/22, 41 yards, 4 sacks, 2 INTs, 0 TDS. ↵
↵
↵O is for Outro. Cue the music for Dabo Swinney, whose audition as the head coach for Clemson proved to be a largely successful one even if he does not get an invitation to coach the team on a permanent basis. Clemson dominated a flummoxed Steve Spurrier's Gamecocks in a game where the OBC seemed to be praying to be hit by a stray meteor on the sidelines. ↵
↵
↵James Davis got the ball 24 times and scored three TDs, proving if nothing else, Swinney is smarter than his predecessor, since he actually gave the best player on his team the ball when it mattered. If Bowden had done the same thing, you might not even know that an adult actually goes by the name "Dabo," much less that he was a college football coach capable of running a team. ↵
↵
↵P is for Premier League. Mike Sherman, you are hereby informed that points are not accumulated in league play for a collective score tallied at the end of the year. ↵
↵
↵Q is for Quaking. Further chaos awaits as the Big 12 will be decided by the BCS rankings. Mack Brown has appeared on the following shows to stump for Texas in the past 48 hours: ↵
↵
↵--ESPN SportsCenter
↵--ESPN College Football Live
↵--ESPN Gameday
↵--A very special episode of Dexter
↵--The Colbert Report
↵--Al-Jazeera (speaking fluent Arabic, weirdly enough)
↵--Univision's Republica Deportivo
↵--The View ↵
↵
↵Mack Brown, please get off of my television. I am voting Texas above Oklahoma, and you can stop stumping like a city councilman on the make. (Though I'm still taking "charitable donations" for my vote, if you're handing them out, Mack.) ↵
↵
↵R is for Redemption. As in Casey Dick collapsing, overcome after leading Arkansas back in a 31-30 win over LSU. ↵
↵
↵ ↵
↵
↵Ryan Mallett told him before the game he would finish his career by throwing a last minute touchdown pass to win the game. Mallett may have powers we don't properly understand. Properly understood, though, is LSU's collapse this year. Confusion and personnel losses on the defensive side of the ball, plus the trial-by-fire of new QBs, equalled misery in big games for the Tigers. Beware the instant top-ten slot for a returning national champion with offseason roster holes. ↵
↵
↵S is for Sympathy for the Devil. Mark May was ... um ... right about Lane Kiffin? Was I actually agreeing with Lance Smarmstrong when he said he didn't like Tennessee's hire? Did I drink out of a stagnant cattle pond earlier? Am I hallucinating? Do I need medical attention? Or is Mark May just saying something I agree with? Please advise, as I, too, think talking about "what a great staff" someone will hire is a bad, bad sign? (To wit: name one of Paul Johnson's assistants. Who? Thank you.) ↵
↵
↵T is for Ten. The number of yards Oregon averaged per play against Oregon State. Listening to Versus' announcers discuss LeGarrette Blount's physique was almost as funny as watching Oregon State play rush defense. "His butt and legs are huge!" He's sensitive, and prefers to be called "big-boned," thank you very much. ↵
↵
↵U is for Unsexy. As in Virginia Tech, ACC championship-bound despite lacking a quarterback or functional offense for two years running. They will face Boston College, a team that cobbled together a division champion out of baling wire, toothpicks, some old duct tape, and the constant tinkering of coach Jeff Jagodzinski. That guy's a freaking genius. ↵
↵
↵V is for Vainglorious. Charlie Weis, 2007: ↵
↵
↵⇥"They're going to have to learn about us, OK? Let them try to stop a pro-style offense, which has multiple personnel groups and multiple formations. Let's see how they are going to do. They've had their advantage because I've come into recruiting late. Well, now it's X's and O's time. Let's see who has the advantage now." ↵
↵
↵Answers: Pete Carroll, Paul Johnson, and Greg Robinson. ↵
↵
↵W is for Wanted: As in one offensive coordinator for major SEC football program in Alabama not named Alabama. Must have ability to mesh with new staff, accept any and all blame for failings of offensive subordinates, and should be fond of Golden Flake potato chips. One-year contract with likely payout following midseason dismissal to be negotiated; must run on first down. ↵
↵
↵X is for Xenogenous. Originating outside the organism or from a foreign substance introduced into the organism, or describing a coach introduced into a relatively new environment. ↵
↵
↵See coaches succeeding in year two for a positive example of a xenogenous presence, as year two is the new year three, and Alabama is the latest case in point. Jim Tressel, Bob Stoops, and Urban Meyer all took their teams to national titles in their second year as new head coaches, using the potent combination of extant talent and new philosophies to flip their respective houses for immense profits. ↵
↵
↵Nick Saban stands four quarters from getting a shot to do just that after erasing Auburn 36-0, and would be the fifth coach this decade to hit the national title game in year two of his tenure. (Larry Coker led Miami to the game in his first two years as Miami's coach.) ↵
↵
↵Y is for Yowza. I watched most of this game, and I didn't see Mark Sanchez throw a 2.75 mile long TD. ↵
↵
↵Z is for Zapped. As in Washington State by Hawaii, which endured the final loss in a season stocked with them, 24-10. The bad news: you lost to Hawaii. The good news: you're in Hawaii, and the season's over. To those Cougars of legal age, the drinks are on us. Just bill to Sporting News and order as many as you like, gentlemen. You need to forget most of what happened in 2008. ↵
↵
This post originally appeared on the Sporting Blog. For more, see The Sporting Blog Archives.