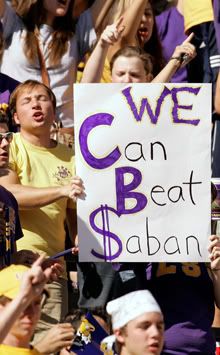 ↵Alabama yanked off an early lead in Baton Rouge on a sneak from John Parker Wilson. To "celebrate" the score, Wilson played charades with the LSU crowd, holding up a mock cell phone to his ear. It's a clear signal to the world that those scurrilous Tigers fans haven't gotten to the QB's cell phone, just as they did
with Tim Tebow last fall
.
↵
↵For his trouble, J.P.W. earned a 15-yard penalty tacked on to the kickoff return. So in the end, the prank worked to LSU's benefit. We can be assured the plot will continue to haunt SEC QBs in the years to come.
↵
↵Parker's LSU counterpart, Jarrett Lee, has been off and on. He sent a beautiful honing pigeon to Demetrius Bryd to even the score, and his blemish -- an early interception which set up Wilson's TD -- might have been his sharpest pass. But on a few other occasions, he has missed his receivers by car lengths.
↵
↵'Bama is in danger, though. One fumble erased a sure score, and another gave the Tigers the ball at the Crimson Tide 30; Charles Scott promptly darted in for the LSU score to
put the Tigers up 14-7
. Three total turnovers in nine minutes for the two squads.↵
This post originally appeared on the Sporting Blog. For more, see The Sporting Blog Archives.