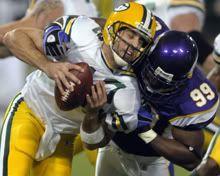 ↵Given only the fact Adrian Peterson bursted through for 192 yards, you'd think Minnesota had an easy go of it against Green Bay. But you need more information, Chip: Gus Frerotte threw three interceptions. Instead of a Purple Jesus-led blowout, the Vikings barely squeaked by
28-27
on a missed Mason Crosby 48-yard attempt in the final minutes.
↵
↵Two Aaron Rodgers safeties back in the second loomed large, too. On the first, Rodgers dropped the ball in his own end zone and didn't have time enough to scoop it and scamper out. Instead, he threw a skip pass while falling down in the endzone, earning the grounding call and two points for 'Sota. A few drives later, Jared Allen sacked Rodgers in his own zone. Nice work, O-line!
↵
↵Elsewhere ...
↵
↵* Want to know how Chicago-Tennesse ended? Re-read my
earlier post on Rex Grossman
, mix in the smallest pocket of success, erase said success ... and
there's the game
. The booth spent the last 30 seconds wondering if Kyle Orton would be healthy enough to play next week.
↵
↵* Matt Ryan, Michael Turner: juggernauts. The Falcons are 6-3 after
a victory over New Orleans
. Maybe the NFC South will be the division to get three teams in the postseason?
↵
↵* Daunte Culpepper only had 10 passing plays; Drew Stanton had eight. And I don't need to tell you that the
Lions lost again
... that first sentence sort of said it all.
↵
↵* Willis McGahee, who was questionable going into this morning, ended up with 112 yards and two scores against Houston.
Baltimore wins 41-13
.↵
This post originally appeared on the Sporting Blog. For more, see The Sporting Blog Archives.