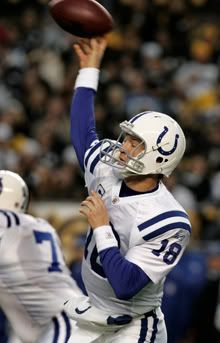 ↵While Indianapolis and Pittsburgh played
an exceedingly tough, even game
, the timing seemed off all evening. Nowhere was that more evident than in Ben Roethlisberger's two-minute drill. After the prettiest Peyton Manning touchdown throw of the season put the Colts up 24-20, Big Ben took over.
↵
↵Roethlisberger just couldn't get the team into a rhythm. He missed getting a play off before the two-minute warning by a fraction of a second, and on the penultimate play of the drive -- Steelers at the Indy 40 -- it took 15 seconds for Ben to get his team set up at the line. (As it was fourth down, he actually had to call a play.) The hail mary came close on a carom, but the Indianapolis defense held it down.
↵
↵Other than Manning's TDs (which included a vintage dart to Dallas Clark and the
aforementioned
ricochet pass to Reggie Wayne), the most memorable play was a vicious goal line stuff by Eric Foster. Mewelde Moore had a path to the end zone ... until Foster rose up and stuck a helmet in Moore's chest, flattening him onto his back. The play ended up saving four points. ↵
↵
↵* My television and heart nearly exploded watching the final minute of Kansas City-San Diego. Down seven, Tyler Thigpen took his team to the brink. But that's irrelevant. Gus Johnson was calling the game! Mottram aptly noted Gus made the game feel like March Madness. Thigpen's touchdown pass to Tony Gonzalez with 15 seconds left might as well have been the Super Bowl, and the failed two-point conversion felt like the play of the century in the hands of Johnson. Oh yeah, by the way: Herm Edwards,
down 20-19
, went for the two-point conversion. The world is a different place, friends.
↵
↵* The Raiders took us back to 2006, as Andrew Walter started the game, played awful, and made way for Marques Tuiasosopo, who also played awful. Life's a circle, man. Jake Delhomme caught the virus and threw four interceptions ... and still led his team to
a 17-6 victory
. Oakland stands a better chance of scoring at this point if they just leave the defense on the field. Putting a QB out there works against the Raiders. THINK OUTSIDE THE BOX, TOM CABLE!↵
This post originally appeared on the Sporting Blog. For more, see The Sporting Blog Archives.