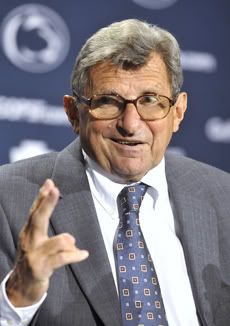 ↵Apologies for the flippant headline, because getting old is oh so sad. Joe Paterno has handled the foray into his 80s with grace and fire ... but his body isn't cooperating at this point. Via
Black Shoe Diaries
, Neil Rudel of the
Altoona Mirror
looks at
the clues of Paterno's weakening condition
. ↵
↵⇥The most significant big-picture development concerning the Penn State football program so far this season is not the Nittany Lions' 3-0 start. It's that Joe Paterno is no longer running out onto the field. In fact, JoePa isn't running anywhere: He's even having trouble walking. Paterno was not present at the team's practice Monday, and he was in a golf cart Tuesday. [...]
↵⇥
↵⇥He's been walking with a noticeable limp, and he could be seen bent over, hands on his knees, a couple of times against the Beavers. [Team doc Wayne] Sebastianelli and team trainer George Salvatore stood close to him much of the game. ↵
↵Every year is supposed to be JoePa's last. No matter his spirit -- which has kept him afloat this long -- if the body doesn't cooperate, there's nothing you can do. This could be a good thing for the Nittany Lions, though: there's no better way for Paterno to go out than with his team at the top.
↵
↵
UPDATE:
JoePa
moved to the press box
at halftime of State's blowout win over Temple.↵
This post originally appeared on the Sporting Blog. For more, see The Sporting Blog Archives.