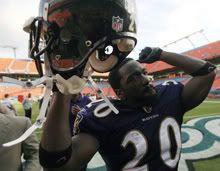 Ed Reed is the champion of Wild Card Weekend, being held up as
the
reason for Baltimore's win in Miami. The
Baltimore Sun
devotes
a full story to Reed's two interceptions
, and the safety is sounding like he has some more ready for the Titans. ↵
↵⇥"Here we come. Here come the Ravens. The team you don't want to see." ↵
↵Is that right? Baltimore's defense forced Miami into some bad offense. A lot of bad offense -- from Chad Pennington, from the line, from Ronnie Brown and Ricky Williams. Baltimore's defense was suffocating. Given that, the Dolphins remained in the game well into the fourth quarter. Baltimore's offense had four fewer turnovers and did better on the third down, but Joe Flacco didn't exactly set the world on fire. Willis McGahee had one long run and Le'Ron McClain played solid but unspectacular. That wasn't an unbeatable team.
↵
↵Fortunately for the Ravens, that statement sort of defines the AFC as a whole right now. Pittsburgh has its obvious flaws (getting its quarterback concussed, for one) and Tennessee might be the least dynamic elite team in recent history. And I love Darren Sproles as much as anyone (that's a lie), but one Troy Polamalu hit could send that cat back in his shell. None of these teams look like surefire Super Bowl candidates, but none look like surefire Week 19 casualties (unlike Arizona).
↵
↵So maybe Reed's right. Maybe Tennessee doesn't want to see Baltimore. But the Titans probably don't want to see Pittsburgh or San Diego either.↵
This post originally appeared on the Sporting Blog. For more, see The Sporting Blog Archives.