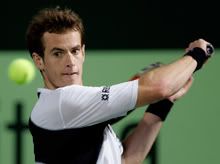 What with all the football and whatnot this weekend, you can be forgiven for having missed a more minor but nevertheless important bit of sports news from the weekend: 21-year-old Scotsman Andy Murray
polished off Roger Federer and Rafael Nadal in consecutive matches
– Fed in the semis and Rafa in the final – to win the Abu Dhabi World Championship on Saturday.
↵
↵Beating Fed was nothing new to Murray, the world's fourth-ranked player, who bested the Swiss star three out of four matches last year, losing to him only in the finals of the U.S. Open, Murray's first career trip to a Grand Slam final.
↵
↵Beating Nadal, however, was a bit more of a feat for Our Andy, though it is his second consecutive triumph over the muscular Mallorcan. Murray also got the better of Rafa in the semis of the '08 U.S. Open. With his three-set victory in the final in Abu Dhabi (6-4, 5-7, 6-3), Murray raises his record to 2-5 against Nadal lifetime (although the Abu Dhabi result is not on the ATP books – the tournament is officially considered an exhibition).
↵
↵With back-to-back wins over the world's number one and two players to start the year, along with a newly bulked-up physique and the recent news that
Murray has signed with Simon Fuller's elite management company, 19 Entertainment,
one can only conclude that the young Mr. Murray thinks his time on the world stage is about to arrive.
↵
↵
After his showing in Abu Dhabi, he will certainly be among the betting favorites at the Australian Open (which begins on January 19th), and should he win, he would become the first British man to win a Grand Slam singles title since Fred Perry in 1936. It's a feat that no doubt would make Murray quite a star overseas, although if he really has his sights set on joining the orbit of British exports occupied by some of Simon Fuller's other clients – David Beckham and the Spice Girls to name a few – he will have to do a little better than the Aussie Open.
↵
↵Should he manage, however, to triumph over both Rafa and Fed en route to becoming the first British man to win Wimbledon in over 70 years? Well, suffice it to say that this possibility is exactly what Simon Fuller is gambling on, because such a victory would catapult Murray so far into the stratosphere of sports mega-stardom that Becks himself, looking up, would barely be able to see the diamonds on the soles of his tennis shoes.↵
This post originally appeared on the Sporting Blog. For more, see The Sporting Blog Archives.