Spencer Hall is courtside at the ACC tournament.
↵
↵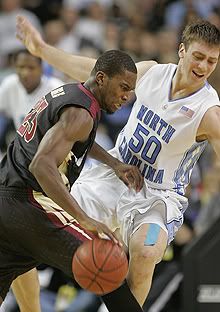 Let us describe Toney Douglas Time to you. It has only the borders of ↵the court as its limits, and when it's declared all within the time ↵zone must set their watches accordingly to watching him rain down ↵points in the second half without mercy.
↵
↵Douglas just sent a good chunk of the powder blue crew home weeping ↵into the wheels of their Volvos, scoring 17 in the second half and ↵spurring a nasty Florida State team to their first ACC Tourney final. ↵You knew it was good and done when a creeping sense of unease spread ↵from the Carolina faithful whenever Douglas got his hands on the ball. ↵The equation ran thusly:  Douglas, ball, sudden disquiet and hints of ↵imminent defeat on the face of Carolina. He hit threes, he hit free ↵throws, he attacked larger defenders with no regard for his own safety. ↵He was good in the first half, and heinously excellent in the second.
↵
↵When Douglas went shoulder first into Hansbrough, and Douglas got the ↵benefit of the doubt from the officials on the call and not the current ↵face of college basketball as we know it...well, that's when Carolina ↵lost their last hope to stop Florida State's physical attack. Without ↵the guarantee of getting calls against Hansbrough down low, the Ty ↵Lawson-less Heels had nothing but Wayne Ellington to count on, and ↵Florida State vacuum-sealed him out of existence in the endgame.
↵
↵Maryland/Duke up next. The
Scheyer Face
is in full effect; I've counted three already, and we're just three minutes into this.↵
This post originally appeared on the Sporting Blog. For more, see The Sporting Blog Archives.