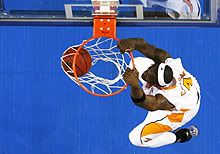 All your bubbles are belong to Mississippi State, the last team that can erase a viable at-large with a conference tournament win today. The parties involved in the ACC and Big Ten championships will be in win or lose; the loser of the Southland tourney between Stephen F. Austin and Texas-San Antonio has no shot at the making the Field. So your Creighton, St. Mary's, Arizona, Auburn, Penn State, San Diego State -- the Bulldogs are Enemy No. 1 right now.
↵
↵But Mississippi State has done more than hold on against Tennessee this afternoon -- the Bulldogs should be leading. The score's
knotted at 36 after a half
, thanks a couple big plays for the Vols in the final seconds. MSU freshman Barry Stewart got trapped near midcourt on what should have been the half's final possession with the Dogs up three; he traveled trying to escape danger. With the ball, Tyler Smith hit a deep deep deep three at the buzzer to tie things up. The racuous Vols contingent in Tampa loved it. The bubble teams loved it more.
↵
↵Overall, the game's been sloppy. The teams have combined to miss 18 of 26 three-point attempts, and they are shooting about 38% in total. Lots of turnovers, Jarvis Varnado has looked extremely fatigued since the opening moments (when he scored MSU's first four points on two high screen-rolls). The margin and stakes make it a compelling watch, but the play hasn't yet.↵
This post originally appeared on the Sporting Blog. For more, see The Sporting Blog Archives.