Spencer Hall is courtside at the ACC Tournament.
↵
↵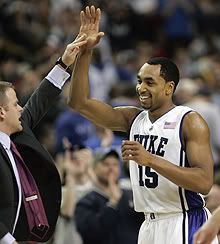 Don't bother checking the stat sheet: I'm all but certain that without ↵looking at a single number that Duke shot 145% from behind the ↵three-point line in this game. You say that's not statistically ↵possible, and you're right, if you believe in "math" and "numbers." ↵What I believe are my eyes, and they're telling me that Duke cracked ↵out the long range weaponry for this game, the sniper rifles, the ↵missiles, the kind of tools where you sit comfortably behind the three ↵point line, press a button, and watch your overmatched opponent burst ↵into flame from a comfortable distance.
↵
↵Let's get pop-geeky here for a second: If they were playing
Halo
, they'd be comfortably picking you off ↵repeatedly from a warm, well-protected spot somewhere very difficult ↵for you to find. Duke came out and made bad math for Florida State in ↵the first half, going on a 24-5 run at one point, shooting 50% from ↵behind the three point line, and putting Florida State in a 35-21 hole ↵at the half. Toney Douglas Time was not repealed for the day, but Duke ↵wasn't watching the clock as even a 28 point effort could not overcome ↵the pressuring defense Duke kept on the Seminoles, a pesky, slappy, ↵needling effort choking off any potential comebacks.
↵
↵FSU made earnest attempts to come back, at one point closing the gap to ↵six points with a flurry of defensive stops and careful chipping away, ↵but then Duke cracked out the howitzers and resumed shelling. A three ↵from Henderson, a three from Scheyer, Coach K heaving in one from the ↵bench just to see if the refs would allow it. (After some nasty yelling ↵at the ref, the goal was allowed.) It all fell, and soon Florida State ↵found themselves in the horrific final death rattle of fouls, desperate ↵three-point attempts, and endless timeouts.
↵
↵So Duke is one bad shooting night away from a tournament loss: what ↵team isn't this true of? Defensively, Duke was consistent and tough ↵throughout the tourney. They are capable of ripping off double digit ↵runs using any combination of four or five scorers, and seem to have ↵congealed nicely at the season's crux. Duke are your ACC champions, ↵they are consistently excellent, and are headed to the tourney with a ↵head of steam. You have heard this before. As long as Coach K coaches, ↵you will in all likelihood hear it again. Dick Vitale may be hyperbole ↵personified, but he is not a liar, and even if Greg Paulus does come ↵over to personally thank the announcer after the game--which he did, ↵clambering over the announcers' table to say hello with his newly ↵minted ACC champions' hat on--Vitale's right. They remain (for both ↵casual and dedicated haters) annoyingly excellent.
↵
↵One final note: of all the years for the ACC championship to be in ↵Atlanta and the SEC championship to be in Tampa, the trough of the ↵recession was
not
it. Though the announced ↵attendance of circa 18K was "The second highest in ACC history," the ↵slack ticket market here and the lackluster attendance at the SEC ↵tourney in Tampa all beg for some kind of coordination. This tourney ↵would have been better off financially in Greensboro, where they could ↵have leaned on Tobacco Road fanaticism and lower travel costs as a ↵draw. Ditto for the SEC tourney, which could have sat comfortably in ↵the cradle of displaced SEC alums, Atlanta, and drawn better numbers ↵than Tampa, where only Florida fans showed up in substantial numbers.↵
This post originally appeared on the Sporting Blog. For more, see The Sporting Blog Archives.