Welcome to Then & Now, where ↵Bethlehem Shoals sums up the week in NBA hoops and tells you what to ↵look for. Find it here every Sunday evening.
↵
↵
↵
The new employee #8
: I have no idea who decided Marbury should wear Antoine Walker's old Boston number, but boy is that symbolism convoluted. Walker underperformed, and yet still helped provide the Celtics with their lone playoff action during those days of wandering. Walker ultimately found some measure of redemption getting a ring with Miami, in a much toned-down version of himself.
↵
↵So it's at once a nod to Toine, a diss, and a hopeful prediction for Steph in Boston, right? Thus far, Marbury has keyed the run that put away Indiana on Friday, and not been at fault in Sunday's loss to Detroit. Given the man's reputation, I'd say this is thus far a success.
↵
↵
A tale of two streaks
: The Rockets, indefinitely without McGrady and now Rafer-less, have finally got going. Before losing to the Bulls on Saturday, they'd won six straight when things should've been falling apart, and then got back on track with Sunday's win against Minny. Artest's been a paragon of efficient grit, Aaron Brooks has stepped into starting line-up nicely and provided more scoring punch, and everyone's been motivated by Shane Battier's star turn in
The New York Times Magazine
.
↵
↵The Jazz, having just lost beloved owner Larry Miller and having to reckon with Carlos Boozer's return, have ridden an uncharacteristic wave of emotion and upheaval on the way to nine straight wins.
↵
↵
↵
↵
Reflecting on the First Fan
: I think it's fascinating to track the ways that basketball informs Obama's life as President, or how he hopes to bring the game into the light for all the country to admire. What I'm totally sick of is half-baked hoops analogies for every bit of policy that comes down the pike. Basketball is not set, or static, or uncontested, and people need to stop writing about it like there's some absolute form of the sport that informs So when Obama takes in a Wizards/Bulls game, sitting down in the front row, and sticks around till nearly the end as his mediocre Bulls get lambasted by the pathetic Wiz, that's a real fan. That's the hard truth he's going to have to sell the American people, and the love that makes us hoops fans see such hope in him. ↵

↵
↵FILM CRITIC
↵
↵
↵ ↵
↵
↵Just in case you missed Saturday's vintage Dwyane Wade performance. It may have been four points less than the career-high 50 he notched in a loss to Orlando last weekend. But forget about gaudy numbers. It's this kind of heroism, or Kobe's methodical third quarter against the Suns, that puts these two and LeBron in a class by themselves.
↵
↵
COMING ATTRACTIONS
↵
↵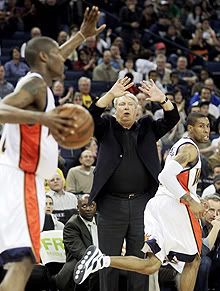 -Don Nelson has officially lost it. On Friday, Nelson benched Jamal Crawford to give C.J. Watson the start, more time, and a chance to develop. This is how Nellie cultivates young talent. Then on Sunday, against the Jazz, Stephen Jackson was in street clothes. And so it will continue, according to
The San Francisco Examiner
↵
↵⇥Tonight it's Jamal Crawford. Sunday against Utah it will be Stephen Jackson. Next Friday against the Detroit Pistons, it will be Andris Biedrins . . . "It's actually better for everybody, if you think about it," Nelson said. "Rather than play a guy 15 minutes, just give him the day off. When he plays, he can play his normal kind of minutes or close to it. I've found over the years that it's better to do it this way." ↵
↵What's weird is that the Warriors had just begun to find a rhythm over the last few weeks, and Monta Ellis was coming along faster than expected. I guess this tells us something about the pressure on Nelson to figure out what youngsters are for real, either for his own sanity or that of the front office. Or that clearing out space for Anthony Randolph and Ellis to develop is this team's only hope to get back to the playoffs any time soon. Such is the nature of the West—you can't aspire to .500 and think that's going to get you anywhere.
↵
↵-Speaking of which, the West has only nine teams over .500, which means one of them will miss the playoffs. That ninth is the Suns, currently over .600 and based on today, a good bet to at least hold that percentage.
↵
↵On the other hand, out East, you're looking at three teams very likely to finish around .500 and miss the playoffs. Considering the past track record of who the East has sent to the playoffs, this is major news. Chicago and New Jersey are hovering around .500, and are both 5-5 in their last 10. The Bobcats sit at .417, but they're arguably the hottest team of three, having gone 6-4 in the last 10. If all three finish the year at or over .500 and miss the playoffs, the East would suddenly have a new identity: middle-heavy.
↵
↵-Is Shaq back? Two monster games back-to-back, good evidence that O'Neal plays much better when constant touches allow him to get into rhythm, a reminder of just what an imposing physical presence he is around the basket. It's enough to make you think that there might be hope for the Suns, even without Amare. Chances are, even when Nash returns, Alvin Gentry will continue with this "seven seconds or Shaq" program—which, more accurately, is the best hybrid of the two we've seen since O'Neal came to Phoenix.↵
This post originally appeared on the Sporting Blog. For more, see The Sporting Blog Archives.