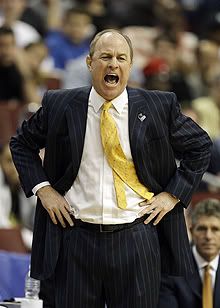 Based near Hollywood, you'd think everyman Ben Howland could get a stylist to fashion the UCLA coach as a West Coast Gandolfini, or maybe a younger Jack Nicholson. Instead, Howland is turning into Clippers mortician Mike Dunleavy Sr. right before our eyes. By my count, Howland has worn a suit purchased at Montgomery Ward in the 1970s for four straight games now. (Pictured: his Thursday get-up.)
↵
↵On a less sartorial tip, the Bruins looked rather Clipperesque today in getting sonned by Villanova. UCLA lost its bid for the Sweet 16 by getting dropped by the Wildcats to the tune of
89-69
, a simple obliteration from tip to horn. Howland has always run a tight defense, but 'Nova set the nets on fire. The Wildcats had 26 points less than nine minutes into the game.
↵
↵It's difficult to credit the semi-home court advantage for 'Nova given that UCLA, for the most part, looked disinterested and of little resolve. That hardly describes the Howland UCLA teams we have seen the past few years, and it makes you wonder if the losses of seniors Darren Collison, Alfred Aboya and Josh Shipp will, in the end, turn out to be a good thing. In the NBA, a coach's malaise is remedied with a pink slip. In college, we get transfers, early entry and (all too infrequently) graduation.↵
This post originally appeared on the Sporting Blog. For more, see The Sporting Blog Archives.