So much for
Memphis' inability to hang
with a tough ACC team: the Tigers have hung
a 20-point lead
on Maryland at the half. Greivis
Sanchez
Vasquez has six points. Counterpart Tyreke Evans had 11 points in the game's first five minutes, and finished the half with 15. There really isn't much else to say. Let's move on.
↵
↵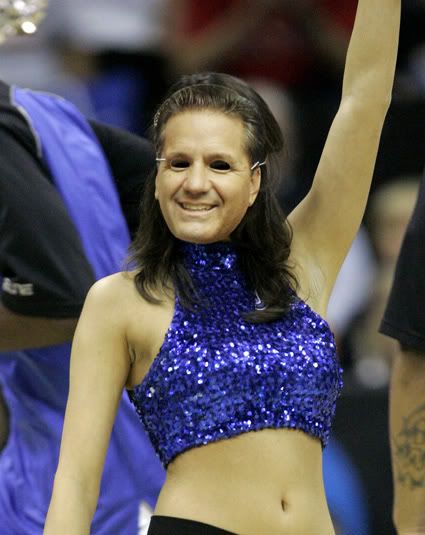 ↵
↵
↵I got shuffled off to UConn-Texas A&M once Maryland fell behind by 14, so I've got no idea if CBS has addressed this. The Associated Press photo pool tells us only the facts:
↵
↵
A member of the Memphis dance squad wears a mask of head coach John Calipari before a second-round men's NCAA college basketball tournament game against Maryland in Kansas City, Mo.
↵
↵Thank goodness John Chaney and Jerry Tarkanian are out of the business.↵
This post originally appeared on the Sporting Blog. For more, see The Sporting Blog Archives.