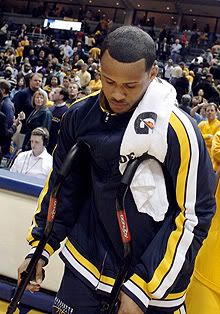 ↵Outside of (NIT'd) St. Mary's, the Golden Eagles of Marquette were the tournament's most curious injury-impacted case in seeding. Marquette had a great season in the Big East ... until talisman Dominic James broke his foot on February 25, exactly the wrong time. The Eagles closed the regular season with four straight losses (against the conference's best teams -- UConn, Pitt, Louisville and Syracuse) and bowed out in the second round of the Big East tournament.
↵
↵Marquette got a six seed, perhaps still too high without James considering that Utah State nearly beat the Eagles Friday. Today's match against Missouri seemed, until a few moments ago, more like a David-vs-Goliath than an equitable second-round pairing. But the table has tilted back toward neutral, as WISN-TV in Milwaukee reports
James has been cleared to play
.
↵
↵Pardon my cliché, but the dude's got a heart of gold. I predict Marquette will have a lot more fans than usual this evening. (H/T:
Searching for Billy Edelin
.)↵
This post originally appeared on the Sporting Blog. For more, see The Sporting Blog Archives.