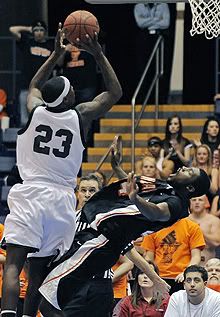 ↵Friday night's Sweet 16 fare offered little drama, excepting a smart battle between Michigan State and Kansas. Oklahoma, UNC and Louisville all destroyed their opponents, which might be fun for fans of said programs, but doesn't fit in the lore of March Madness. We want razor-thin margins, overtimes, lead changes! Right?
↵
↵Err, maybe. The men's Division II championship game preceded the CBS pre-Elite Eight show. A nation awaited the clever insights of Greg Anthony and Seth Davis. Instead, Findlay and Cal Poly Pomona decided to engage in a madcap overtime game for the title. While it finished dramatically, it wasn't exactly what you'd call "well-played" or "breathtaking" or "good."
↵
↵The teams combined to score one point in the final five minutes of regulation. One point. Most of the overtime period hardly proved better. One sequence inside of two minutes remaining with Pomona leading by two featured a Pomona turnover followed by a Findlay airballed three followed by another Pomona turnover. This particular turnover came in the backcourt, as one Pomona guard passed to the other Pomona guard 10 feet away. The latter Pomona guard got distracted or something, and the ball bounced off of him out of bounds.
↵
↵But things worked out in the end: with a tied game, Findlay inbounded from under its own hoop with 2.4 seconds left. Marcus Parker passed it in to senior Tyler Evans (who hadn't scored a point in the game), who dribbled quickly to the right elbow extended. Evans, with a hand in his face, rose and fired ... and swish ... at the buzzer ... for the championship. That will tend to get the blood flowing. (Bad video
here
.)
↵
↵Cheers to you, Findlay and Pomona, for providing some exciting (if erratic) basketball.↵
This post originally appeared on the Sporting Blog. For more, see The Sporting Blog Archives.