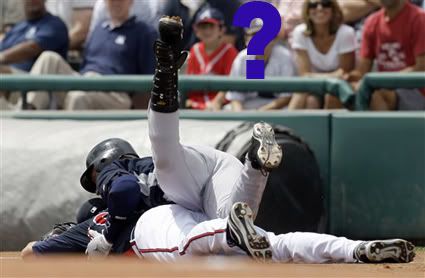 ↵
↵The Associated Press describes the action:
New York Yankees Derek Jeter, top, collides with Atlanta Braves first baseman Greg Norton after Jeter grounded out during the first inning of a spring training baseball game, Saturday, March 28, 2009, in Kissimmee, Fla. Jeter bruised a knuckle on his left pinkie on the play but went on to play three innings.
↵
↵Young Braves Fan is amused. Cool Ballpark Mom is absolutely delighted. Stadium Staffers On Break find the situation quite droll. But how does Young Yankees Fan feel? Make your guess, then check after the jump for the answer.
↵
↵
If you said "horrified and a little bit disgusted," give yourself one point.
↵
↵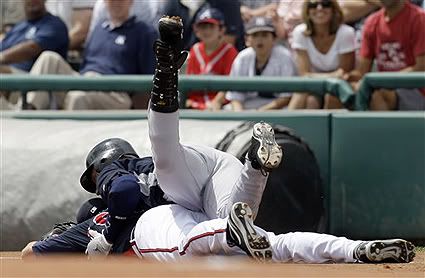 ↵
↵Jeter! Just! Doesn't Take a Play Off! Even in spring training. With the season opener days away. And less than nothing at stake, except for your health.
↵
↵That is why this man has the captaincy, A-Rod. Show a little HEART and TRUE GRIT once in a while, sheesh. Bust your pinky running out a ground ball!↵
This post originally appeared on the Sporting Blog. For more, see The Sporting Blog Archives.