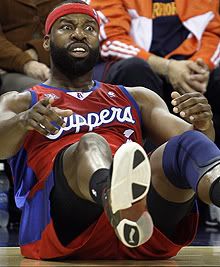 ↵Baron Davis has been known, right or wrong, as an injury-bitten player through his career. Between his back problems in New Orleans and various ankle issues in Golden State, Davis has often been seen as more of a risk than other point guards. The Clippers should have known this (even though they are the Clippers) ... but they could not have been expected to predict Baron's problems this year.
↵
↵Apparently,
it's B.D.'s stomach that has become the problem
: ↵
↵⇥Doctors in San Antonio diagnosed Davis with ulcers, an illness he said he's dealt with before in his pro career. "It comes and goes. Once it calms down, I'll be able to play," Davis said, as he munched crackers in the locker room. "It kind of just came on."
↵⇥
↵⇥Davis said he may meet with a specialist about the ulcers when the Clippers return to Los Angeles. He's taking medication now and doctors have told him to eat crackers and bananas, and drink plenty of water before he can return to action. ↵
↵Of course, Davis' season started off on a bad note because of his stomach -- he was way out-of-shape entering training camp.
He denied rumors
he gained weight for a Jenny Craig endorsement deal, but could not deny reality, which showed a guy not too concerned with staying in shape after signing a $65 million contract. At least C.C. Sabathia proved he didn't care about his weight
before
he signed a deal, right?↵
This post originally appeared on the Sporting Blog. For more, see The Sporting Blog Archives.