Welcome to Then & Now, where Shoals sums up the week in NBA hoops and tells you what to look for. Find it here every Sunday evening.
↵

↵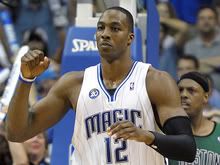 Do You Believe in Magic?
Dwight Howard has no post game, can't score late, and is troubled by swarms of smaller players. The rest of the team just shoots threes. Rafer Alston's replaced the injured Jameer Nelson for the long haul. But as of right now, Orlando's second to Cleveland in the East standings, having passed (and beaten) the Celtics on Wednesday. Garnett is back, but sore, and time is running out for the Celtics to prove they're the rightful runner-ups in the conference. Also, anyone else notice the steady increase in Stan Van Gundy's swagger?
↵
↵
Suns Dead, But Not That Dead:
Talk about the dullest, most ineffectual roller coaster season in recent memory. The Suns are running again, have a team populated with old dudes, and are out of synch with their Big Leader's symbolic pronouncements. But last week, they put together a six-game winning streak that, when coupled with their soft schedule down the stretch, has them still within striking distance of the Mavs. It's hard to argue with their record, especially given the dismal start to the season, and you might be tempted to think this team's found their rhythm late. Instead, expect this to be the last gasp before rebuilding begins.
↵
↵
Time to Tank
: Disregarding the fact that I don't pay much attention to college ball, and tend to think that everything it creates is some kind of optical illusion, I was never red-hot on Blake Griffin. It seemed fishy that announcers discussed him like Shaq, when to me, I was seeing a more polished Okafor. Yet until bowing out today, he'd positively owned this NCAA tournament. Insert "man among boys" cliche here: I'm inclined to agree with Ziller's assessment of him as more Amare than Okafor. His strength may not translate to the pros in the same way, but that size/athleticism combo is the number one asset in today's NBA.
↵
↵
FILM CRITIC
:
↵
↵ ↵
↵
↵I have no idea who this guy is, but because of the high production values, I'm presuming that attacking him isn't beyond petty. Dear guy, I'm sorry you have to go see LeBron play. I'm sorry you're so fundamentally ignorant that you don't realize how much the league's improved over the last few years, in large part due to LeBron. And I'm sorry that you don't have access to a time machine, so that you can go back and watch the game when it meant something or whatever. I suspect your kid will tell his kids about how he once got to go see LeBron, maybe by then the G.O.A.T., play, but then for some reason never got taken to another game. The best thing about all this? His main beef is with the high prices and product being pushed. Someone must really love basketball if that can divert his attention from LeBron James. One time, I went on a date with a model, but got a parking ticket that ruined my night.
↵
↵
LOOKING AHEAD:
↵
↵
-Lately I've been fascinated by how hard it is for storylines to gain traction late in the season, unless they have direct playoff implications. The ultimate test for this theory/salvation for us all would have to be
the return of Gilbert Arenas
, whose Wizards have been an unholy disaster without him. Gil shot poorly in his return but notched 10 assists, and just having him around the league will
give us all something new to talk about
.
↵
↵-Over in that crazy, crazy place we call Golden State,
Stephen Jackson is out for the season
with a toe injury, and Don Nelson—who last month, tried to implement one of the weirdest rotation strategies in recent memory—has put assistant Keith Smart in charge. Here's where the brass gets to see some sustained garbage time in which Monta Ellis, Anthony Randolph, and even Brandan Wright can make a case for them as the nucleus going forward. Depending on how they fare, and how well Smart uses them, it might not matter that de facto leader/center of the offense Jackson is under contract through 2012-13, and Nelson says he'll
call it quits after 2010-11
.
They're standing in the way of progress
.
↵
↵-Last week, Gerald Wallace had
an amusing quote
about how his team faltered when the playoffs were in sight. But they still have a shot at the eighth seed, and
what's most shocking is who they'd knock out
—the Detroit Pistons, mainstays of the Eastern Conference Finals for the past five years. The Bobcats have being getting better every month, which is what happened when a humbled master teacher works with a group of talented players on the verge of vet-dom. They are this good, and based on the second half alone, belong in over Chicago, at least. The Pistons staring back over their shoulder at the lottery?
That just doesn't feel right
.↵
This post originally appeared on the Sporting Blog. For more, see The Sporting Blog Archives.