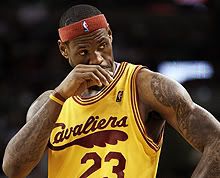 ↵
Boston beat Cleveland
on Friday night despite the absence of Kevin Garnett. With both teams going hard for the No. 1 seed (and theoretically the top record in the league) and the last 15 games in the rivalry being won by the home team, it seems like a big deal. A really big deal. We all remember last spring's Game 7 in Boston, in which the Celtics narrowly overcame LeBron James' best efforts to move on to the conference finals.
↵
↵Suffice it to say a Game 7 between the Celtics and Cavaliers appears to be a common prophecy among NBA fans. As such, and given that home bias that has existed for these teams, a leg up means treble.
Paul Pierce certainly thinks so
. ↵
↵⇥"It's big," he said in a sing-song voice that echoed down the back hallway of the TD Banknorth Garden. "It's big. It's big." ↵
↵Brian Windhorst of the
Cleveland Plain Dealer
also
finds it a source of consternation
, and I'm generally inclined to side with Windhorst. But for some reason, I just can't find the impetus to write off Cleveland's chances in Boston because of the loss. Remember, the Cavs are a far better team on both sides of the ball this season than last. Last season, LeBron almost single-handedly took home the aforementioned Game 7. In Boston. He's better, his backcourt is stronger, and his frontcourt has had more time to coalesce. Results be damned: the Cavs stand a better chance of winning in Boston than the time when they narrowly lost.
↵
↵I don't mean to insist the regular season means nothing, because the regular season means a lot, maybe everything. But at this, the highest level of the sport, it's an appetizer. Game 7 will be decided during Game 7, not in March.↵
This post originally appeared on the Sporting Blog. For more, see The Sporting Blog Archives.