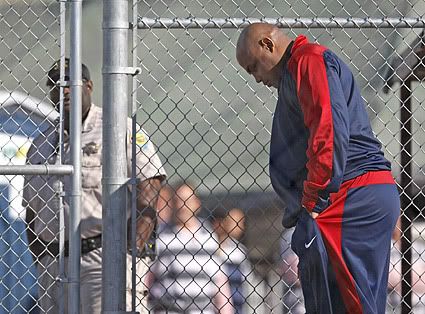 ↵
↵(I would joke about Charles Barkley taking a good look at the choices which led to this. But as I'm a schlub who an hour ago sat glued to the Associated Press photo server eagerly awaiting photos of Barkley arriving in jail, I really have little room to talk.)
↵
↵
Sir Charles Barkley has been booked at Tent City
, where he will enjoy some nice quiet moments to reconsider his decision to chase a lady friend around Scottsdale while drunk. The original sentence would have set up Barkley for five days; late this week, a judge decreased the sentence to three days. Of this, the AP reports that Barkley will have a 12-hour work release on Sunday. I'm a bit surprised, because I really thought that during the regular season Chuck only worked Thursday nights. Maybe he (gasp) actually watches non-TNT games and (double gasp) does research. Or perhaps he has a T-Mobile commercial to shoot.
No?
Oh.
↵
↵Barkley will have his own private spot at Tent City (yes, the inmates live in tents), and meals will be delivered. Sounds like a camping trip without having a cook over a fire pit or Coleman single-burner. The sheriff reports that Chuck has been a model inmate; I'm not sure whether this is a compliment. Also, it appears Barkley will speak to the teenage inmates at Tent City at some point. That's really the best thing to come of all this: Chuck is a master orator, and he can do a lot of good with mouth, provided the right content is spilling out.
↵
↵See you Thursday, Chuck.↵
This post originally appeared on the Sporting Blog. For more, see The Sporting Blog Archives.