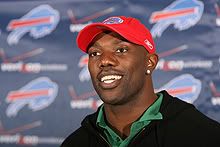 ↵This whole Terrell Owens-to-Buffalo thing happened really fast on Saturday. In the morning, Mike Florio passed on the rumor that
Buffalo had interest
; by the evening, T.O. put on a Bills hat and Drew Rosenhaus started talking championship. And there you have it: Terrell Owens will play in Buffalo (and Toronto).
↵
↵I
laughed at the idea
Bills QB Trent Edwards could possibly survive 17 weeks with Owens, given No. 81's propensity to feud with even All-Pro passers. As you'd expected, Edwards is putting on the smile and the hopeful glint.
From the Buffalo News
: ↵
↵⇥"I am really excited about the addition of Terrell Owens to our team," Edwards said. "We spoke earlier and both look forward to working hard this offseason. We share the common goal of winning football games. His ability and experience will add to our offense and the weapons we already have." ↵
↵I'm fairly certain Jeff Garcia, Donovan McNabb and Tony Romo also had the goal of winning football games, but that's beside the point. MJD
makes a great point
about the optimistic outlook of Edwards-Owens at Shutdown Corner: ↵
↵⇥Edwards is a smart and mature young guy, and maybe best of all, he doesn't have a superstar's ego against which Terrell Owens can clash. Edwards will gladly cede the spotlight, and he doesn't see himself as above criticism. ↵
↵The difference between the personalities of Owens and fellow enigma Randy Moss is really, really stark. Moss, all along, just needed to be surrounded by stars to keep the heat off his own back. Owens, these days, needs to exist as a sole spark in a vacuum: he needs to be the center of attention on the field, or else he'll make himself the center of attention in the locker room. Maybe instead of worrying about Edwards, we should be focused on Lee Evans and Marshawn Lynch.↵
This post originally appeared on the Sporting Blog. For more, see The Sporting Blog Archives.