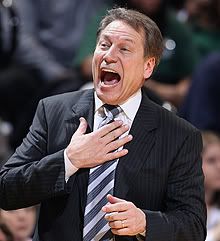 ↵Tune in to Purdue at Michigan State, and you expect stout defense. The first half at the Breslin Center has fit the prefab narrative, with the Boilermakers taking
a 31-29 lead
into the locker room.
↵
↵Defense do things differently. Both these Big 10 squads find themselves in the top 12 in adjusted defensive efficiency this season. But
Purdue
excels at shot defense, forcing opponents to shoot more than 5% worse than the national average.
Michigan State
, as always, dominates the defensive glass, with the nation's fourth best defensive rebound percentage.
↵
↵And what do you know? The Spartans shot worse than 35% in the first half, but limited Purdue to only four offensive rebounds in 16 opportunities. JaJuan Johnson (10 points, six rebounds) has been Purdue's best performer, with Kalin Lucas (nine points) producing for MSU. But really, the defenses have dominated this game. If the norm holds, expect more of the same in the second half.
↵
↵(By the way, I'm not a Big Ten mark, but that commercial with the Explosions in the Sky soundtrack tickles my heart. Why didn't
Friday Night Lights
: The Film result in EitS being the official musician of American sports? Get rid of The Pussycat Dolls and Rob Thomas and T.I. and let the boys from Austin do the score for everything.)↵
This post originally appeared on the Sporting Blog. For more, see The Sporting Blog Archives.