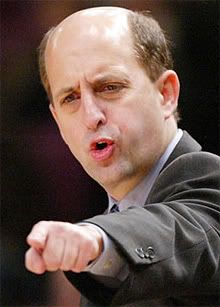 ↵Kanye West sat courtside at Lakers-Jazz, which led to an exchange on what analyst/former coach Jeff Van Gundy knows about the rap game. The Notorious J.V.G. responded by telling the world: ↵
↵⇥"I am hip hop." ↵
↵... which naturally led the NBA Twitter community to
insert JVG references into well-known rap lyrics
. Good times.
↵
↵The Jazz trailed by 22 at the half, but had bottomless opportunities to make the game interesting through the fourth quarter. Utah even snuck to a nine-point deficit at a few points. But the Lakers really are just too much, and
pulled out a victory
that looked as close to effortless as you can get in the Western Conference playoffs.
↵
↵The only drama in the final minute came as the starving and dirt-poor fans at Staples Center chanted "We want tacos!" -- Deron Williams scored a lay-up off an L.A. turnover to hit 100 and save Taco Bell a few bucks. Minor victories, y'all.↵
This post originally appeared on the Sporting Blog. For more, see The Sporting Blog Archives.