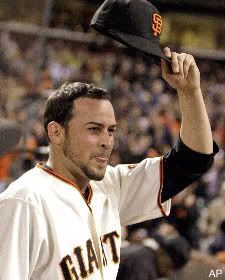 One of the most improbable no-hitters took place last night, as Jonathan Sanchez, a reliever who was only on the mound because Randy Johnson was unable to starting on account of a bad case of should-have-retired-three-years-ago-itis,
threw an 11-strikeout, 0-walk no-no
.
↵
↵But yes, this was insanely unlikely. Sanchez, who was one bad eighth-inning error away from a perfect game,
raised his record to 3-8 on the season and barely pushed his ERA below 5
. Yeah,
he
threw a no-hitter. Of course, it was against the Padres, so it should only count for like 70 percent of a no-no, but whatever.
↵
↵Halfway across the world, a different Sanchez was making headlines. Luis Leon Sanchez, a dreaded Spaniard,
took the eighth stage of the Tour de France
. This marks the first time two athletes with the same name tossed a no-hitter and won a stage of the TdF since Sandy and Jean-Luc Koufax managed the feat back in the summer of 1957.*
↵
↵Luis Leon Sanchez is still nowhere near the overall lead, which is still held by Rinaldo Nocentini, with Alberto Contador and relative unknown Lance Armstrong close behind.
↵
↵Not to be outdone by his two compatriots, however, Jets quarterback Mark Sanchez
slept on a bed of money, then ate breakfast in bed off the back of supermodels
, which means he wins yet again.
↵
↵
* this is a ridiculous lie.
↵
This post originally appeared on the Sporting Blog. For more, see The Sporting Blog Archives.