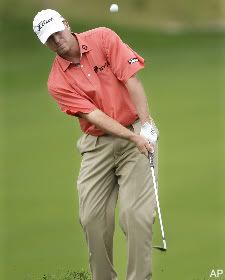 As the second round started at the John Deere Classic today (
a hellacious rainstorm washed out play on Friday
), Steve Stricker was tied for 80th place in the lightly regarded tournament.
He's in slightly better shape after Round 2.
↵
↵Stricker uncorked a 10-under par Round 2, recording nine birdies, an eagle and one lousy bogey. Instead of 80th place, Stricker now finds himself alone in second. Boy, he really overshot it with the 80.
↵
↵With the rain delay, the tournament will be holding both the third and fourth rounds on Sunday. Fortunately, weather will cooperate, with the high in the low 80s. Might be uncomfortable for the roughly eight miles of walking that entails, but it's little worse than what they're playing through today.
↵
↵Quick prediction, and we're really going out on a limb here. If Stricker continues going double digits under par per round, he just might win this thing. Maybe.↵
This post originally appeared on the Sporting Blog. For more, see The Sporting Blog Archives.