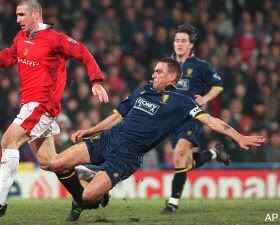 There are few better Tough Guys* than Vinnie Jones, former soccer goon turned movie star. He made his mark as Big Chris, then Bullet Tooth Tony in successive Guy Ritchie pictures, both of which were awesome.
↵
↵Since then, he's gone on to star as the Juggernaut in
X-Men 3: X3: XXX-Men: The Remutationing
or whatever they called that movie, as well as some other movies (random aside: One of them is called
The Bleeding
. It has vampires and the one and only DMX. Box office gold, there!)
↵
↵But being that nearly half his roles are semi-ironic nods to his tough guy image (
She's The Man
? Seriously?), it follows that he's no threat to take himself too seriously for a fake commercial about a workout system where Vinnie just beats the hell out of you. Mind
the PG-13-ish NSFW language
, but it's not too bad.
↵
↵ ↵
↵
↵
↵Of course, some might point out that this concept is hardly new; just look at
Alec Baldwin's "Pyramid of Pain"
from Saturday Night Live a decade ago**. Heck, the case could be made that it's not even the best "watch a personal trainer violate his clients for no good reason" video to hit the Internet recently (
again, mildly objectionable language
, so earmuffs on the kids):
↵
↵
↵ ↵
↵
↵
↵But ehh. All three can be good on their own merits, right? Why go through the trouble of reinventing the wheel if you don't need to? Sometimes, all you really need to get your point across is a punch in the face.
↵
↵
↵
↵
*Incidentally, every single one of the better tough guys is in 2010's The Expendables. And some worse ones, too. How Jones was passed over for Stone Cold Steve Austin or Randy Couture is both a mystery and a travesty.
↵
↵**Sadly, it's not on Hulu or otherwise available online, only on the SNL Best of: Alec Baldwin DVD. The only SNL result on Hulu for "pyramid of pain" is Colon Blow. An apt result, if you think about it, but not what we're looking for here.
↵
This post originally appeared on the Sporting Blog. For more, see The Sporting Blog Archives.