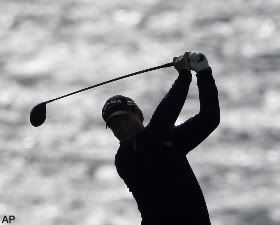 The third round of the British Open is in the books, and somehow, Tom Watson is
still on top at the famed Ailsa course at Turnberry
. The 59-year-old birdied the 16th and 17th holes for a miniature rally, but miniature's all he needed to go from "fading" to "leading" as the final round looms.
↵
↵Now's as good a time as any to recall Watson's second British Open win, a slugfest with Jack Nicklaus (no, not a literal slugfest, that's
hardly behavior fit for a golf tournament
). The year was 1977, and
the scene was Turnberry
: ↵
↵⇥⇥⇥Somehow that day in 1977, Tom Watson still hadn't beaten Jack Nicklaus at Turnberry, even after Watson had knocked a 7-iron stiff, two feet, on the last hole. Somehow Nicklaus, down a stroke to Watson, had gouged an 8-iron out of the rough and out of what looked like a sinkhole from the right of the 18th fairway and gotten it on the green, 40 feet away. Of course Nicklaus made the putt, forcing Watson to make his to win the British Open.⇥
↵⇥⇥⇥
↵⇥⇥⇥Lee Trevino was standing behind me that day when Watson's 7-iron briefly looked as if it might go in the hole. When it finally stopped rolling, Trevino laughed and said, "Let the big dog eat," and went back to the locker room. He was down there when Watson tapped in for the final-round 65 to go with the 65 he had shot the day before. It meant that Nicklaus had shot 65-66 and not won the '77 British Open, the best that ever was. ↵
↵
↵
↵⇥⇥⇥[...] That of course was the day when Watson turned to Nicklaus as they were walking together off the 14th tee, after they had thrown everything at each other for three straight days and nothing had been decided yet, and said, "This is what it's all about, isn't it?" ↵
↵Fast-forward 32 years--yes, over half of Watson's life, and 26 years after the last major win of his career--and Watson is somehow still atop the leaderboard.
↵
↵The key to his success, as mentioned before, is the last three holes of the course. Today, he birdied 16 and 17; yesterday, it was 16 and a truly ludicrous 75-foot putt on 18, and Watson capped his scintillating opening round with a birdie at 17 to push his round to -5. All in all, that's -5 on nine holes. He's +1 the rest of the way, respectable but not champion-quality.
↵
↵But Watson
is
champion-quality, demonstrably so*. 
He's got eight major titles, sixth best in golf's history. He was named Golfer of the Year six times, second only to Tiger Woods' nine. You can see his 11-years-and-counting dry spell of PGA wins and say he's past his prime; others would just say he's long overdue.
↵
↵It's all guessing either way, though, and soon the speculations proves useless in the face of reality. We'll know soon enough if Tom Watson has 18 more holes of brilliance in him, and as remarkable as it is that he's the oldest golfer to lead a major after 54 holes, we're sure he's as cognizant as anybody that those records are mere trivia compared to what happens after 72.
↵
↵At the very least, though, it seems as if the key question for most golfers is "can he play his way out of trouble?" Watson's done so many times, but more importantly, he's done it twice this weekend. Recall that he bogeyed four out of a vicious five-hole stretch on Friday, and he was out of the lead entirely after 15 today; but for those quick birdies in response, we'd be talking about the equally improbable Matthew Goggin instead. Champion-quality.
↵
↵So here it is. 18 more holes of drama, and deciding this tournament will probably require all of them. Will it be as dramatic as 1977? Probably not, but it doesn't have to be. It's still truly vintage Tom Watson, beating back both the field and time itself. This is, indeed, what it's all about.
↵
↵
↵
*Not so, meanwhile, for his fellow golfer in the 3rd round pairing, Steve Marino; Stevearino wrapped both hands around his throat for a +6 round and a quick departure from contention. So it goes.
↵
This post originally appeared on the Sporting Blog. For more, see The Sporting Blog Archives.