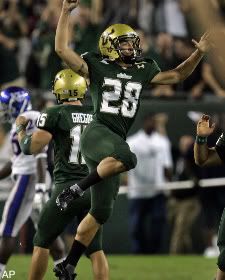 Ah, the Skyride. As theme park attractions go, it's one of the least exhilarating. We don't mean that as an insult, per se; they can't all be roller coasters.
It's just that, while it's cool to have a bird's eye view of the different areas of the park (specifically Tampa's Busch Gardens Africa), at roughly 0.0003 miles per hour, you're not likely to get goose bumps or otherwise feel like your safety's threatened.
As a matter of fact, rather than try to merely describe the ride, here's a video. Enjoy the view, and ask yourself whether at any point you'd ever experience the release of a drop of adrenaline. We're guessing "no":
But, as you can see, it
is
quite high up, something that's rather problematic for a human body that's woefully underequipped for a long fall. So grabbing one of the gondolas as it departs, then hanging to the outside would be a sensationally bad idea. And unfortunately, that's
precisely where USF kicker Maikon Bonani enters the story
:
⇥The employee was working Saturday at the Skyride attraction. After sending passengers on a gondola out of the station, the employee thought the door might be unlocked and held onto the door to check it while guests sat on the ride, according to a park statement. He held on as the gondola took off — then 35 feet above the ground — let go and dropped into a landscaped area, the statement added.
Yeah, that probably didn't feel good. Bonani's fortunate that he had some flora to cushion his fall, because that's probably the only reason he's alive. But alive he is, and amazingly,
he's probably going to be okay
:
⇥USF Coach Jim Leavitt told The St. Petersburg Times that Bonani had injured his T12 vertabra.⇥
⇥
⇥"Our entire program is praying for Maikon and happy that the injury was not life threatening," Leavitt said in a statement. "I was able to visit him [Saturday night]. He's in pain, but doing fine and resting."
No word yet on any permanent damage or impending surgery--we're hoping for "little to none," obviously--but as a general rule, if you absolutely
must
break a vertebra, the lower the better. To that end, the T12 is the last of the transitional vertebrae, and near the small of one's back. Obviously, it's too early for us to know how badly it's hurt, especially seeing as how we're hundreds of miles away, sitting in front of a laptop, and not in any way educated in the medical field. There's all that. Best wishes all the same, though.↵
This post originally appeared on the Sporting Blog. For more, see The Sporting Blog Archives.