We won't have regularly-scheduled TSB programming Friday through Sunday as everyone heads out to the beach, but for those of you stuck in offices or afraid of that glowing orb outside, we hope you enjoy some of sports' biggest figures in different pieces of Americana.
↵
↵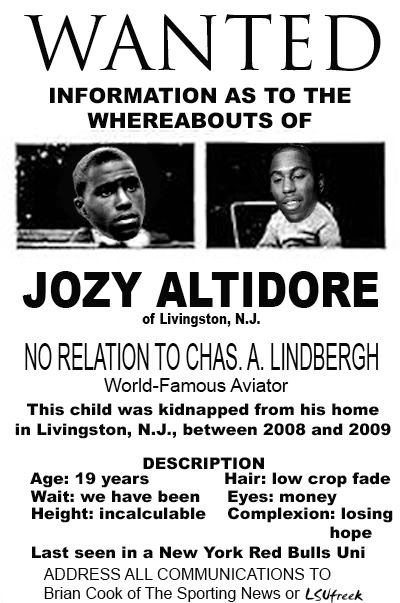 ↵
↵
↵Jozy Altidore and Chas A. ↵Lindbergh, Jr.: young, potential-laden lads kidnapped from their ↵home by people whose grasp of English is poor, then hidden away for ↵months at a time. A nation waits with bated breath. Is he okay? Where ↵has he gone? Is his first touch any better? ↵
↵
↵For Chas, the answers to these questions were "no," ↵"about five miles from his home," and "uh… what?" ↵About two months after he disappeared, he was found dead by the ↵roadside. Jozy's faring better; his answers are "pretty much," ↵"some place called Xerex," and "eh ... not really." He ↵wreaked his terrible vengeance on Spain in the Confederations Cup. But ↵the threat of wasted potential still looms. With the World Cup coming up ↵next year, nationwide panic -- nay, hysteria -- is certain if Altidore is not ↵restored to his rightful place in someone's starting lineup. ↵
↵
↵So, please, Villareal, stay your hand and loan him to someplace that ↵will play him. Otherwise the FBI will drag you into court, and probably ↵sentence you to swing. This country will not abide another Eddie ↵Johnson. ↵
↵
This post originally appeared on the Sporting Blog. For more, see The Sporting Blog Archives.