We won't have regularly-scheduled TSB programming Friday through Sunday as everyone heads out to the beach, but for those of you stuck in offices or afraid of that glowing orb outside, we hope you enjoy some of sports' biggest figures in different pieces of Americana.
↵
↵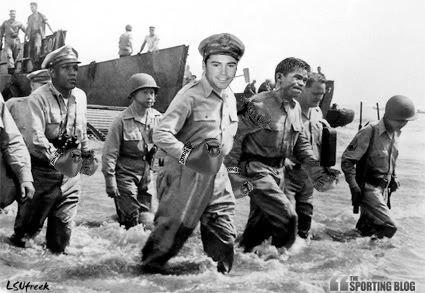 ↵
↵
↵The "will he or won't he" Brett Favre routine aside, there's only one retirement in the world of sports this year that has cataclysmic implications for an entire industry. When Oscar De La Hoya decided to hang up the gloves in April, it was a strange sort of Independence Day for the fight game, the fall of the Golden Empire, one that ruled the roost for over a decade. ↵
↵
↵Many felt that De La Hoya had become a nostalgia act and was keeping boxing from moving forward. Such critics were glad to see his era come to an end. And yet, the Oscar era came with a lot of zeroes on the end of it. The Golden Boy was also The Goose Who Laid the Golden Eggs. Everything the man touched turned to ridonkulous money, and if he happened to touch a bunch of money, well, it turned to more money. The guy made many millions fighting (and losing to, on my card at least) Felix Sturm, and if you're wondering who Felix Sturm is, get in line, because I bought that fight and I still don't know. Seriously, sometimes it seemed like Oscar could pull seven figures for a shadowboxing session. ↵
↵
↵But then he got old. And then, and THEN ... Manny Pacquiao whupped his ass but good, gave him a beating that reeked of finality, that had Marciano/Louis, Holmes/Ali written all over it. And so it was time for him to walk into the sunset, put on his promoter hat once and for all and leave the fisticuffs to the younger, hungrier and decidedly poorer men behind him. As fight fans, we watched him leave with mixed emotions, ready for the next generation of the sport, and yet wondering who, if anyone, could hope to fill the massive void of his celebrity. Mighty Manny? Mr. Cash Money Mayweather? ↵
↵
↵Whoever it is has some massive shoes to fill. I don't know if you've looked at Oscar's feet lately, but the man wears size "expensive." And when a mega-star of his order splits the scene, there's always some considerable anxiety left in his wake, particularly in a sport like boxing, where there is no league, no organization, no order whatsoever, only the big names of the game and our inexplicable desire to see them beat the crap out of each other. ↵
↵
↵In his famed farewell address to Congress, Douglas MacArthur, another battle-scarred, outsized personality who overstayed his welcome on the public stage, said, "Old soldiers never die, they just fade away." I don't exactly know what that means, but somehow it makes me think of De La Hoya's future, whiling away his hours cutting backroom deals and trading insults with Bob Arum and secretly yearning for another crack at the spotlight. MacArthur's other most famous quote was, "I shall return." I confess that it's occurred to me more than once that the next De La Hoya will be not Pacquiao or Mayweather but ... De La Hoya. After all, old fighters don't die, either. They just keep making comebacks. ↵
↵
This post originally appeared on the Sporting Blog. For more, see The Sporting Blog Archives.