We won't have regularly-scheduled TSB programming Friday through Sunday as everyone heads out to the beach, but for those of you stuck in offices or afraid of that glowing orb outside, we hope you enjoy some of sports' biggest figures in different pieces of Americana.
↵
↵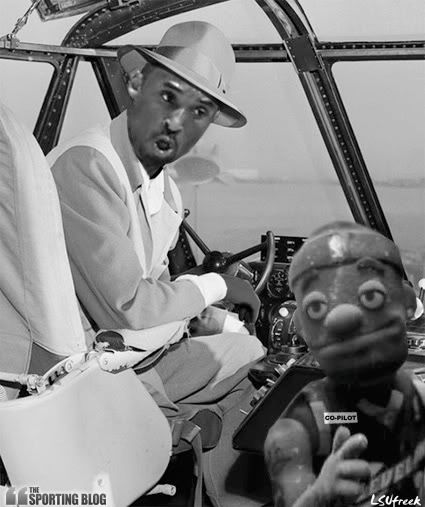 ↵Other people will tell you that the most important things about America is democracy, or hard work, or patriotism about democracy and hard work. However, if you went to grad school for American Studies like I did, you know that this country is really about being eccentric, powerful, and successful in a way that makes people laugh at you. ↵
↵
↵That's why to me, the greatest American of them all is not Washington, Lincoln, Nat Turner, or Sandra Day O'Connor, but the man who inspired that movie The Aviator. I speak, of course, of Howard Hughes -- movie producer, zillionaire, flyer of unknown aircraft, recluse, wooer of babes, and complete lunatic. Hughes didn't just do whatever he wanted, he made up new things to do just so he could do stuff no one else had ever done before. Don't believe me? Read this hearty reference page about his life. ↵
↵
↵This is a guy who, at the end of his life, was somehow both embroiled in Watergate and would only hang with Mormons despite never converting himself. He probably didn't even care about that church. Hughes was just serious and improbable at the same time. ↵
↵
↵What does this have to do with Kobe Bryant? No one in sports is so hell-bent on excessive excellence, on perfection well past the point that it even matters, as Kobe. Some might even say it's gotten in his way; one summer, he bulked up so much that he lost some flexibility. So that next summer, he got rid of all the muscle. How that happens, I wouldn't even know. But that's just another offseason for Bryant. He spent a couple of seasons proving he could drop 50 a night if he felt like it, and then decided to prove another point by sharing the ball, winning an MVP, and this year, getting a fourth title (the first three didn't count). ↵
↵
↵Kobe is still reviled by some, and just as beloved by others. But by and large, fans see him as a somewhat awkward, definitely kooky fellow who might be the best basketball player ever. Unlike Jordan before him and LeBron after, Bryant doesn't possess supernatural powers. No, he's just ballsy and weird enough to think he could conjure them up out of thin air. Come to think of it, there is something very rah-rah American about this kind of self-determination -- for both Kobe and Hughes. That is, unless their whole lives seem designed to keep us from making that connection. ↵
↵
This post originally appeared on the Sporting Blog. For more, see The Sporting Blog Archives.