We won't have regularly-scheduled TSB programming Friday through Sunday as everyone heads out to the beach, but for those of you stuck in offices or afraid of that glowing orb outside, we hope you enjoy some of sports' biggest figures in different pieces of Americana.
↵
↵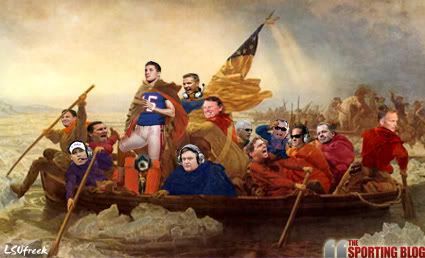 ↵
↵
↵Of all our founding fathers, none is more annoyingly perfect than George Washington. He didn't crown himself king! He made brilliant decisions like crossing the Delaware and marrying rich! He never told a lie, and wore only the most powdery and lustrous of wigs! ↵
↵
↵He cheated on his wife, but he was so good at it his wife didn't care! ↵
↵
↵The logical college football corollary from the present? Tim Tebow, the non-drinking, steadily virtuous type who would be incalculably irritating if he weren't busy leading your team across icy rivers to certain victory. The rest of the SEC's in there, too, though my weak Revolutionary War history limits casting to three picks: ↵
↵
↵Houston Nutt: Mad Anthony Wayne. Because he's insane. ↵
↵
↵Bobby Petrino: Benedict Arnold. ↵
↵
↵Nick Saban: Alexander Hamilton, because he's in charge of the cash as the SEC's filthiest of filthy rich coaches. ↵
↵
This post originally appeared on the Sporting Blog. For more, see The Sporting Blog Archives.