Long Pond, Penn. (Aug. 2, 2010)- Craig Goess arrived at Pocono Raceway for the second time this season looking to leave the track the way he did before--with a win. Goess, who brought home his first-career ARCA Racing Series presented by RE/MAX and Menards victory in June at the Pennsylvania track, felt confident in his car and team to repeat this time.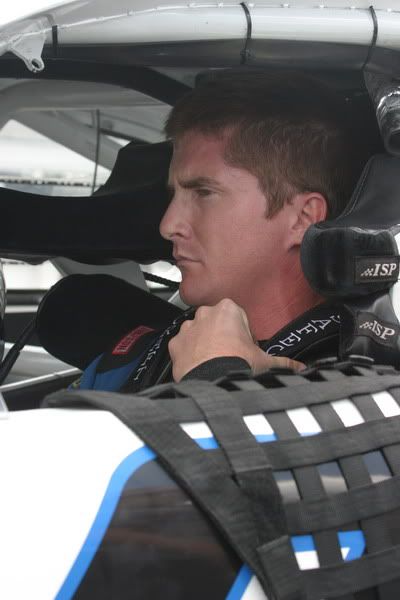 Goess went out in practice looking to build off his June performance. He finished practice 11thquickest with a time of 55.315 seconds (162.705 mph).
Not happy with the car, the No. 81 ESR team got to work after practice, changing the set-up of the car. "We felt a little bit flat during practice," Goess reflected after practice. "The motor didn't feel as good as it did last time. We changed carburetors, different ignition boxes, but it didn't seem to help. The car felt good towards the end, but we should have been turning better times. We changed the motor and transmission, and anything we can to make the car feel better. The No. 81 guys worked hard, and hopefully,it will pay off."  
With the new engine in place, Goess looked forward to a quicker car for qualifying. He laid down a lap time of 54.301 seconds (165.743 mpg), quick enough to start in the second row in the third position.
As the green flag dropped for the Weis Markets 125, Goess hoped to drive the No. 81 to victory lane one more time. He lined up  behind pole winner Frank Kimmel in the third position and was ready to go racing.
Goess raced hard, staying in the top-three for the first 25 laps. As leader Kimmel entered lap traffic on lap 21, Goess and Mikey Kile took advantage of the condensed lead to drive around the No. 44 on lap 21.
Goess radioed to the No. 81 crew that the car was a bit tight, especially in the tunnel turn. The caution flew on lap 31, giving Goess and the leaders the opportunity to make the ARCA Racing Series-mandated pit stop by lap 40. The crew put on four tires and fuel with a time-efficient stop. Goess left pit road first, beating out Kile onto the track.
With Goess starting out in front on the lap 36 restart, the No. 81 hit lap traffic. Robb Brent, the second-place car, was able to navigate through the traffic, taking the lead before the caution came out on the same lap.
Spotter Lorin Rainer reassured the driver after the restart. "Keep hitting your marks," radioed Rainer. "There is no pressure from behind. Keep doing what you are doing."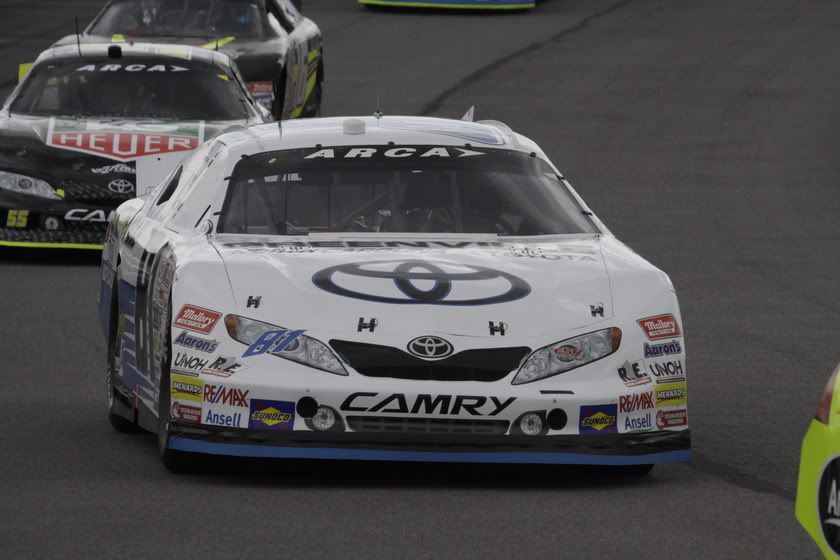 With ten laps to go, Goess was in the third position behind Brent and Dakota Armstrong, but couldn't make up ground on the 2.5-mile track. He crossed the line third for his sixth top-five and eighth top-10 of the season.
"I'm trying not to be disappointed from a third-place run because we did pick up some points," said Goess. "As far as the championship stand-point, we came into the race 50 points behind Justin Marks, and now, we are only 30 points behind. It was a good day for us overall. We didn't get to try what we wanted to try during practice, and we were a little down on power. We were a bit handicapped during the race, so with that being said, getting third is not too bad."
With only nine races to go in the season, Goess looks touse the third-place finish as motivation. "When you come to a track that you've won at before, I think anyone would be disappointed if you don't win again. Everyone worked hard and did the best that we could do. I brought the car back without a scratch on it, and we will save it for another day. I'm looking forward to the next nine races."
Goess continues his trek to the top of the ARCA Racing Series point standings and is only 30 points shy of leader Justin Marks. Goess and the No. 81 Greenville Toyota of N.C. team return to action at the Berlin Raceway next Saturday night for the ARCA Racing Series event. The green flag drops at 8:30 p.m. EST, with live timing, scoring and audio broadcast on ARCARacing.com
About Eddie Sharp Racing

Eddie Sharp set up shop in 2005 in Denver, N.C. after several years of transforming young, talented drivers into ARCA championship contenders. Today, Eddie Sharp Racing has evolved into the rite of passage for any serious upcoming driver with an ambition for professional stock car racing. Located in Denver, North Carolina just north of Charlotte, Eddie Sharp Racing occupies a top-notch facility that closely resembles a five-star NASCAR Sprint Cup Series team, both inside and out. The two ESR buildings contain two teams where on any given day, championship contending cars are assembled, engines tuned and teams strategize to score the next race day victory.
About Activ8 Communications
Activ8 Communications, based in Mooresville, North Carolina, specializes in public relations, marketing strategies, brand development and sponsor activation. With focus on NASCAR public relations and relationship building, Activ8 creates unique identities and connections for the drivers and clients under its umbrella.
For more information about Activ8 Communications, visit www.goactiv8.com.