Running. Diving. Catching. Throwing. These are all words that have to do with baseball. They also occur in many, if not all, of our nominees for SB Nation's defensive play of the year.
A committee of SB Nation baseball editors and writers -- Grant Brisbee, Marc Normandin, Bill Hanstock and Kurt Mensching -- picked our favorite defensive plays after our 30 baseball blogs nominated their team's best. Now it's your turn to tell us which play is best.
The Indians don't turn many triple plays. This was their fifth in 30 years. It was the second 7-2-4 in history. It should probably have been a double play. A nice catch and and throw to beat the speedy Dee Gordon. And then Yasiel Puig showed up at second base unprovoked. Out 3. We salute you, Cleveland nine.
Yoenis Cespedes bobbles the ball. So, maybe you'll want to dock a few points for sty -- DANG DID YOU SEE THAT THROW?!
HE'S ON FIRE Edition:
An amazing play is an amazing play, no matter the situation. Sometimes amazing things happen at big moments. Mike Moustakas did a pretty big thing in the ALCS.
There were many great plays that involving baseball players sprinting across the outfield grass, diving and catching a baseball. Steven Souza's sprint and catch happened to be the final out of Jordan Zimmermann's no-hitter. Federal Baseball has a great breakdown of the play: Souza ran 116 feet in 4.25 seconds. Then he dove and caught a baseball.
The Dive. The Catch. The Throw. The Out. The Moment you'll remember among a myriad of memorable moments?
Grant Brisbee:
It's not like this ended the World Series. It won't go down in history like "The Catch," not to anyone but us nerds. But what a play. What a staggering double play. It didn't have to be perfect -- note the high flip again -- but it had to be close enough. The Giants got it by .02 seconds. I want to see the Sliding Doors version of this play, but only if I can turn it off and return to this delightful reality.

The Giants won the World Series. This double play helped.
I read the fine print on the rules.* This was a fantastic play but it was not made by a baseballer. It was made by an awesome older gentleman. Even better? Keep your eye on the ball. Keep your eye on the ball. Keep your eye on the ... that's a different dang ball isn't it?
*There were no rules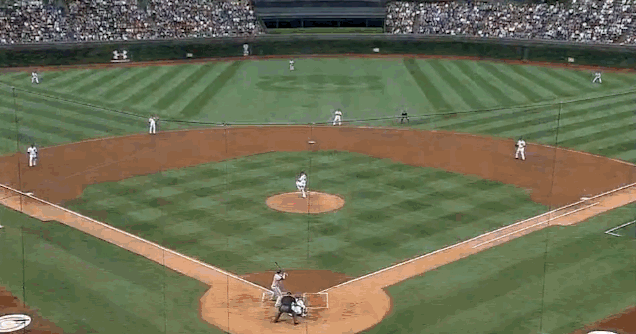 (via reddit)