×
(4)

WASHINGTON STATE FAN
Via CougCenter, our Washington State blog.
Washington State Fan. Popcorn Man. Time-Travelin' Asics Dad. This GIF has many names, and he has emerged as a cult hero. I consider him to be the spiritual successor to TIM LINCECUM, the grand champion of GIF TOURNAMENT III. Like Lincecum, Popcorn Man just sits there tossing ballpark foodstuffs in the general direction of his face, without regard for anything else around him.
Unlike Lincecum, he is all by himself, unconcerned with amusing anyone. All alone, under the rain, in a sea of seats, an avalanche of popcorn rolling down his chest, hands loosely gripping pieces of garbage. All captured through the shaky lense of a camera far away, on the other end of the stadium, pointed there by someone whose eye has caught something special.
(1)

DAMN IT, ASTROS, PART 6
DAMN IT, ASTROS, PART 6. The sixth of seven offspring of an abysmal, rudderless baseball franchise. The love-child of a pitifully small payroll and a far-too-long schedule. In this incarnation, Jonathan Villar bears the torch lit by DAMN IT, ASTROS, PART 1, PART 2, PART 3, PART 4, PART 5, and PART 7.
He is also tournament's last remaining representative of baseball, the world's most GIF-able sport. Let us take note that at this stage of the tournament, there are more butt GIFs than baseball GIFs.
(3)

BUTTGOAL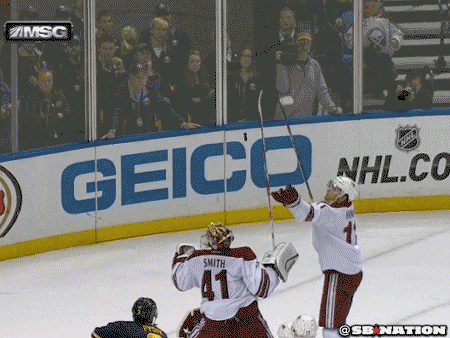 Who now shall bear the mantle of Butt-GIF Prime? The legendary BUTTFUMBLE lost tragically early in GIF TOURNAMENT III, and two spiritual brothers, ASTROS BUTTSLIDE and BUTTGOAL, represent two-thirds of the championship round. This GIF offers more in the way of tragedy: this occurred in overtime, and this goal cost his team a win.
It is quiet. Unlike previous GIF TOURNAMENT champion, there is no pop, no pratfall. There is only a portrait of a sad man and his too-baggy shirt.