1-26
The polls haven't closed in every state yet, but at this point in the season I think we have at least a decent idea of the teams that are probably pretty good and the teams that are probably not all that good. With that in mind, let's look at three results from November that don't seem to make any sense 8-10 weeks later.
For the purposes of sanity (both yours and mine), North Carolina is being excluded from this exercise.
1. Charlotte 63, Michigan 61 (Nov.24)
The 49ers beat the preseason top 10 Wolverines on a tip-in at the buzzer to win the Puerto Rico Tip-Off and become the unlikeliest of the early season tournament champions. Charlotte - which came into the tournament already owning a loss at the hands of Charleston - has since come back down to earth, falling to Davidson, Georgia Tech, UTSA and Florida State...by 44. The Wolverines, on the other hand, are 6-0 in the Big Ten heading into Saturday night's showdown with No. 3 Michigan State.
2. Northern Colorado 60, Kansas State 58 (Nov. 8)
North Carolina has soaked up all of the bipolar attention this season, and deservedly so, but K-State isn't all that far behind the Tar Heels in unpredictability. They've beaten three ranked teams - Gonzaga, Oklahoma State and Oklahoma - but also lost to previously mentioned Charlotte, a subpar Georgetown team by 27 and Kansas by 26. None of those losses, however, approach the embarrassment provided by the season-opener. Northern Colorado might be the best team in the Big Sky, but they were handled by the other three "powers" on their non-conference schedule - Colorado State, New Mexico State and Wyoming - and they lost to Montana State by 15 a week ago.
3. USC 84, Xavier 78 (Nov. 30)
The Musketeers capped off an 0-3 performance at the Battle 4 Atlantis with a loss to USC in the 7th-place game. The Trojans had lost their previous two games in the tournament, to Wake Forest and Villanova, by a combined 29 points. It would be a sign of things to come for USC, which lost its first five Pac-12 games before upsetting California Wednesday night. Xavier, on the other hand, rattled off eight straight wins after returning from the Bahamas, and its only loss in Big East play was a highly-contested tilt at Creighton.
27-31
Nebraska coach Tim Miles established himself as the king of the halftime tweet a couple of seasons ago when he was at Colorado State. In the moments immediately following the Cornhuskers' huge upset of Ohio State on Monday, Miles began campaigning for a new crown: Selfie King.
He's got some pretty stiff competition in his own conference, namely these ladies from Minnesota, who kept their eyes on the prize during the Gophers' win over Wisconsin on Wednesday.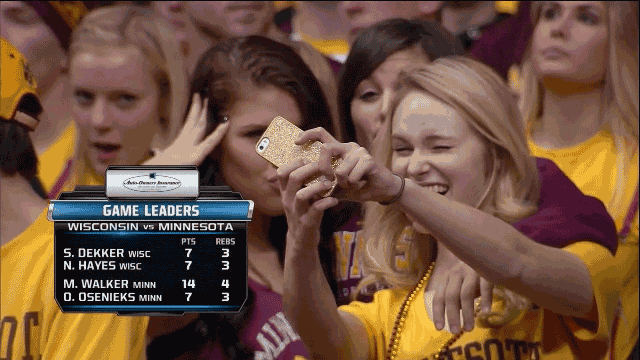 32-37
As has been the trend in recent years, Rick Pitino's Louisville Cardinals appear to be rounding into form as the college basketball season makes the turn towards February. The Cards set an AAC margin of victory record when they hammered Houston by 39 points last Thursday, and then tied the record six days later with a thrashing of South Florida in Tampa. Sandwiched in between those wins was likely U of L's most impressive victory to date, a 76-64 road triumph over Connecticut in ESPN's College GameDay game of the week.
The thing that sets this second half surge apart from the others is that Louisville is making it without the services of starting point guard Chris Jones, who hasn't been available since suffering an oblique injury during the second half of the Cardinals' 81-73 win over SMU. Jones is U of L's third leading scorer (11.3 ppg) and ranks second on the team in assists (2.9 apg) and steals (1.9 spg). Still, there has been growing concern in Louisville that his style of play is too similar to that of All-American backcourt mate Russ Smith's.
Freshman Terry Rozier has hopped into the starting lineup with Jones sidelined, and has dished out 20 assists to just six turnovers in league play. Some think Rozier's deferential style gives Louisville its best chance to win a second national title in as many years, a notion Pitino completely rejects.
"We're much better with Chris Jones," Pitino told Louisville radio analyst Bob Valvano Wednesday night. "Now I will say this, Chris has to come around and understand Russ better. Terry and (former Louisville point guard Peyton Siva) understand Russ. It's almost like me with Russ, if I yank him for doing a couple of things I don't like, then I take away the greatness of Russ Smith. It's the same way (with Jones), if Russ misses you, it's because he's going so quick he may not see you, and you've got to react with great body language and react the right way. Terry has gotten used to Russ. Chris has got to get used to him a little bit more. I think Terry and Russ are a better backcourt right now, because they have blended in like Peyton did with Russ. Peyton understood Russ better than anybody in America."
Jones is expected to return to practice on Friday and will be available when Louisville takes on AAC-leading Cincinnati next Thursday.
38-41
National scoring race update:
1. Antoine Mason, Niagara (27.7 ppg)
2. Doug McDermott, Creighton (24.8 ppg)
3. Billy Baron, Canisius (23.5 ppg)
4. Aaric Murray, Texas Southern (22.9 ppg)
5. Alan Williams, UC Santa Barbara (22.8 ppg)
42
The UNLV fan base has drawn some criticism in recent years for its relative lack of enthusiasm, but it's hard to criticize anything about "Khem Kong," the Rebel student section's paper mache ode to forward Khem Birch.
Terrifying. Awesome. Terrifyingly awesome.
43-50
Harvard's hopes of an at-large bid (should they not win the Ivy League) suffered a big hit on Tuesday night when the Crimson took a head-shaking 68-53 loss at Florida Atlantic. In seemingly unrelated news, Purdue lost 63-60 in double overtime at Northwestern, in what may have been the least exciting multiple OT game in college basketball history. The reason this is (at least kinda) significant is that it was the first time the two programs had lost on the same day since 2007?
Which two programs hold the longest streak of mutual non-losing? According to Ken Pomeroy, it's Kansas and Ohio State, which haven't lost on the same day since Feb. 19, 2005. In fact, the top three combinations of teams on the list all feature Kansas (Duke and Fairfield are the other two partners). Rounding out the top four is the Calipari combo of Kentucky and Memphis, which haven't lost together since Nov. 23, 2006.
51-55
Your weekly Incarnate Word update features the somewhat shocking development that the Cardinals might actually be pretty decent.
I-Dub pulled off back-to-back double-digit Southland Conference wins over New Orleans (78-55) and Central Arkansas (87-72) before falling in a nailbiter to perennial mid-major powerhouse Oral Roberts (79-77) over the weekend. The Word is now 14-3 overall and 2-2 in league play heading into Thursday night's tussle with 5-1 Sam Houston State.
Maybe the whole "avoid scheduling D-I teams until conference play" philosophy isn't so insane. Except for, you know, all the rules preventing it.
56-57
You've probably seen it by now, but just in case, here's Wichita State's Tekele Cotton making Illinois State's John Jones consider if continuing his basketball career might be an error in judgment.
The win moved the Shockers - who are, I'll say it again but this week in all caps, LEGITIMATE NATIONAL TITLE CONTENDERS - to a perfect 20-0.
58-59
The combined record of Ohio State, Oregon, Iowa State and Wisconsin before their first loss: 58-0
The combined record of Ohio State, Oregon, Iowa State and Wisconsin since their first loss: 0-14
60-62
A year after setting an FIU program record for wins and nearly leading the Panthers to just their second NCAA appearance, 31-year-old Richard Pitino is working his magic once again at Minnesota. The Gophers just wrapped up a brutal two-week stretch in which they faced four ranked opponents - Ohio State, Iowa, Wisconsin and Michigan State - with a 2-2 record thanks to a beatdown of the Badgers on Wednesday.
After losing three starters, including All-American Trevor Mbakwe, Minnesota was picked to finish ninth in the Big Ten before the season by the league's basketball writers. Now, heading into the fourth weekend of conference play, it almost seems like it'll be a surprise if the Gophers don't go dancing. They're 15-5, and the only thing they have resembling a bad loss is a 14-point defeat at the hands of Arkansas in Maui.
If the Gophers make the field of 68 and then do some damage, I'm all for dubbing the younger Pitino "The Minnesota Miracle Man." It's a title Gordon Bombay has been holding for two decades now, despite the fact that he really hasn't done anything notable in the state since '93. It's time for a change.
63-67
The biggest story of the week might be the shooting clinic that was Creighton's humiliation of Villanova on Monday.
The BlueJays made their first nine three-point attempts and led by as many as 40 midway through the second half. They finished the night 21-for-35 (60 percent) from behind the arc and shot 57 percent overall. Their 21 three-pointers set a new Big East record.
Ethan Wragge tied Kyle Korver's school record with nine three-pointers, scoring all 27 of his points on the deep ball. Wooden Award front-runner Doug McDermott added 23, as Creighton wound up winning by the closer-than-it-was final score of 96-68.
We can debate Villanova's credentials as a legitimate title contender another time, but since the Wildcats entered Monday night ranked No. 4 in the county, I think it's fair to say they're in the discussion. That being the case, let's look at the five most lopsided regular season losses suffered by eventual national champions:
1. UCLA - 27 points (against Illinois in 1965)
2. North Carolina - 26 points (against Wake Forest in 1993)
3. Villanova - 23 points (against Pittsburgh in 1985)
4. Duke - 22 points (against North Carolina in 1991)
4. UCLA - 22 points (against Washington in 1975)
Just one national champion in the past 20 years has suffered a defeat by 20 points or more and gone on to win the national title. That was Maryland in 2001-02, which lost to Duke by 21 that January.
68
We close this First 68 as we've closed each one before it: with your Creepy Mascot Photo of the Week.
That's Nebraska's Herbie Husker giving what appears to be an orientation speech for new members of hell.
• Marcus Smart, Jabari Parker headline Wooden Award candidates
• Big 12 has been much deeper than expected
• Bubble Watch: BYU could be a terrifying tournament team
• NBA draft: Joel Embiid leads SB Nation's big board
• Bracketology: Wisconsin's stumble aids Kansas' rise